Kavita Kaushik's unique wedding anniversary celebration
Not a party in the city, Kavita Kaushik brought in her first wedding anniversary by throwing a feast for villagers in Uttarakhand.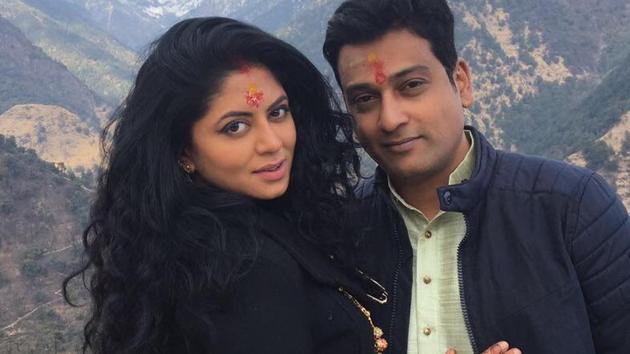 Updated on Jan 28, 2018 04:38 PM IST
Last year, Kavita Kaushik surprised people with a low-key wedding to her beau Ronnit Biswas on January 27. The couple tied the knot in a Shiv-Parvati temple Triyugi Narayan, seven kilometres from Kedarnath, Uttarakhand with her close family members and friends in attendance. This year, the actor who played Chandramukhi Chautala in the series, FIR, decided to revisit the place to celebrate her first wedding anniversary.
+
"I can't believe that it's been a year already," says an excited Kavita. "Time has flown and how. Both of us are believers of Lord Shiva and they say Shiva and Parvati got married in this place, so we wanted to get married here too. It feels that we were here just three months ago (to get married). I wanted to celebrate my wedding anniversary here and not throw a party. Being a celebrity, we get the opportunity to throw and attend numerous parties throughout the year and socialise as well. But our wedding venue was blissful with sweet villagers and kids. So, instead of a party, we threw a feast for them. Every villager was invited and we had a ball with them."
+
Kavita's close friends who live in Dehradun, Uttarakhand helped her with the arrangements and even cooked food early in the morning. She says, "It is snowing heavily here and the temperature is below zero. Everything is shut, so they were a huge help in getting stuff organised and carting stuff for the feast from Dehradun. They had helped us last year too. Our friends have been rock stars cooking for 400 people including 180 kids. Till late evening, people from neighbouring villages kept coming and we served them food as well. It was fulfilling to see their happy faces. It was a blissful experience and I want to do this every year rather than throw a party for the rich."
+
The FIR actor was surprised to see that "kids wiped their plates clean" unlike kids in the city. She says, "They appreciate the value of food. My neighbour's kid and nephew have to be told multiple times to eat their food. It was so refreshing to see that." She will travel to Dhanaulti and return to Mumbai on February 1.
+
Kavita recently wrapped up a Punjabi film with Gurdas Maan and enjoyed shooting for it at the border of Rajasthan and Punjab. "I love nature as my heart is in the jungles. I thoroughly enjoyed staying outdoors and the interiors. Earlier, Ronnit and I had gone to the Gir forest to celebrate New Year and now we are here up in the mountains again. When I am not working, I just want to travel. There is nothing in the cities that appeals to me," she signs off.
Follow @htshowbiz for more
Close Story