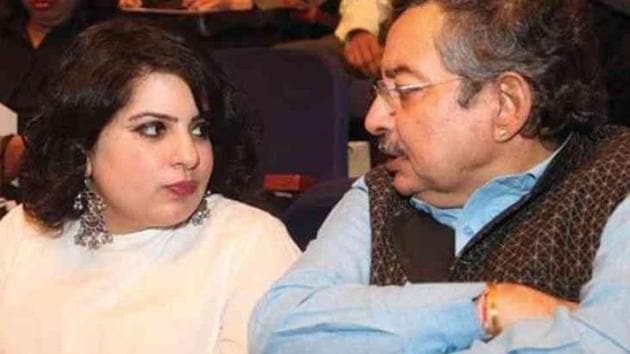 Mallika Dua responds to MeToo claims against father Vinod Dua, says she stands by him, the movement
Vinod Dua's daughter Mallika Dua has issued a statement on Instagram after he was accused of sexual harassment. He has denied the charges.
UPDATED ON OCT 15, 2018 11:03 AM IST
After senior journalist Vinod Dua was accused of sexual harassment by filmmaker Nishtha Jain, daughter Mallika Dua, stand-up comedian and social media influencer, said she is in solidarity with the #MeToo movement and will let her father fight his battle while she stands by him.
Jain had accused Dua of sexually harassing her almost three decades ago in a Facebook post on Friday; the journalist has denied the allegations. Mallika addressed her Instagram post to Jain, reiterating her support to the #MeToo movement and writing if "at all my father is truly guilty of what you described, it is unacceptable, traumatic and painful."
+ +
She went on to criticise the filmmaker for naming her in the post, saying "it was in terrible taste". Attacking the trolls, she added, "This isn't my battle to fight. It isn't my responsibility, shame or burden. I will deal with this my way on my time. Stop forcing women to give statements for your entertainment".
She ended the post saying, "This is my dad's battle, I will let him fight it and I will stand by him."
Jain apologised to Mallika for "inadvertently" shaming her. "I had no such intention. Thanks for friends and supporters for pointing this out. She's in no way responsible for her father's acts. However, I do hope she'll be able to believe me, empathise with me as well as the other women he has harassed," she wrote on Facebook.
Acting on the allegations, Dua's present employer The Wire has issued a statement which said he has denied the charge. "We await the outcome of their deliberations in the matter," it said. The #MeToo movement is gaining momentum in India with personalities from film industry, media and sports being called out by women on social media.
Close