Budget 2017: Defence spending up by 6% but it may hurt military's modernisation plans
The military expenditure, excluding defence pensions, went up from Rs 2.29 lakh crore in 2014-15 to Rs 2.58 lakh crore in 2016-17.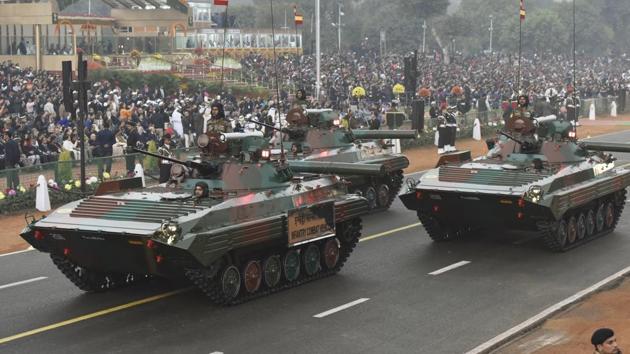 Updated on Feb 01, 2017 07:07 PM IST
India hiked its allocation on defence spending by a marginal 6% on Wednesday but experts said the modest increase might hurt the military's modernisation plans, crucial to keeping up with China's expanding might.
Finance minister Arun Jaitley allotted Rs 2.74 lakh crore for defence spending in 2017-18 – including Rs 86,488 crore for modernization -- up from last year's Rs 2.58 lakh crore.
"Modernisation will stagnate once again. The increase does not even cater for domestic inflation, leave aside the fall in the value of rupee and international inflation in defence equipment," said strategic affairs expert Brigadier Gurmeet Kanwal (retired).
India's military spending averaged an annual increase of 10% during the last three years, much to the disappointment of the military that is struggling to scale up its capabilities.
At Rs 86,488 crore, the capital expenditure for acquiring new weapons and systems is 10% more than last year's Rs 78,586 crore. However, Rs 6,886 crore remained unspent last year.
At 1.62%, India's defence spending is paltry when measured against the country's gross domestic product. The budget for 2016-17, excluding pensions, accounted for 1.72% of the GDP, though experts argue it should be in the region of 3% to counter China's growing military might.
However, minister of state for defence Subhash Bhamre hailed the hike in outlay. "9.3% increase in capital outlay for defence ministry. Up to Rs 86,000 cr from Rs 78,000 cr last year. Welcome move," he tweeted.
At the HT leadership summit in December, defence minister Manohar Parrikar said he would like 3% of the GDP allocated for military spending but that the target could not be achieved overnight. Defence spending averaged 1.59% of the GDP between 1947 and 1962, the year Indian and China fought a war. The budget averaged 3.1% of GDP between 1963 and 1981.
"The increased allocation towards capital expenditure is a welcome move. It shows the government's commitment towards indigenisation," Samtel Avionics CEO Puneet Kaura said.
But defence planners and experts believe spending over the years has not been balanced and hurt a military laden with obsolete weapons and equipment.
From basic gear such as bullet-proof vests and assault rifles to hi-tech platforms such as warplanes and next-generation submarines, many of India's defence modernisation programmes are on a slow track for want of money, a senior officer said.
The government also announced a centralised travel system for soldiers through which tickets could be booked online. "They (soldiers) do not have to face the hassle of standing in queues," Jaitley said.
Close Story
Personalise your news feed. Follow trending topics