A bad phone line and India-US cross talk over tensions with Pakistan
Updated on Sep 30, 2016 09:31 PM IST
A bad phone line is how two foreign ministers ended up having, as aptly described by US state department spokesman John Kirby on Thursday, "one conversation in two calls".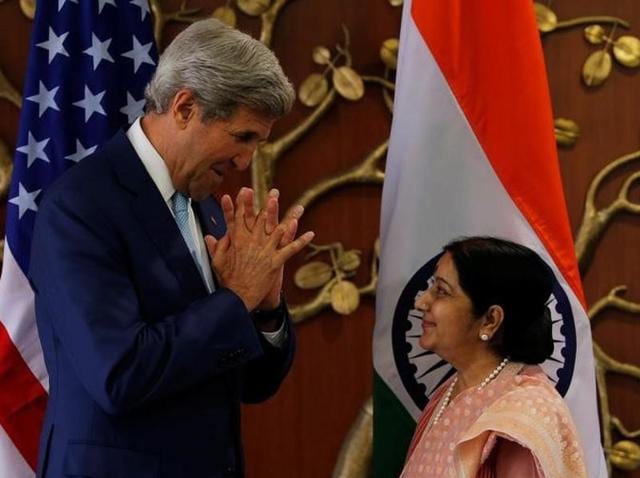 Hindustan Times |
, Washington
Yashwant Raj
Before external affairs minister Sushma Swaraj wrapped up her UN general assembly visit, Indian and US officials tried to set up a phone call for her and Secretary of State John Kerry. But the phone line was bad and they weren't able to speak.
The two were finally able to connect on Tuesday. And Kerry condemned the September 18 Uri terrorist attack that claimed the lives of 19 Indian soldiers and set up an angry showdown for leaders of the two countries at the UN general assembly.
That in short was how the two foreign ministers landed up having, as aptly described by US state department spokesman John Kirby on Thursday, "one conversation in two calls". Kerry did try to prevent an escalation, the spokesman added.
But if that looked like a frenetic last-minute attempt by the US to dissuade India from carrying out a retaliatory strike, as it may have been made out to be in a certain section of the media, here are the facts, as they unfolded over the day on Thursday.
If the US really had an idea, it would not have allowed its ambassador, Richard Verma, to continue his US visit, till hours after the strikes were announced by India. He would have been ordered back to his post much before, said sources.
But Verma was here in DC and on schedule for a discussion on India-US relations, and challenges in the relationship; he was to headline at Wilson Centre, a DC think-tank, on Thursday, which was announced cancelled just a few hours before.
"If the US knew, or had been forewarned Verma would have not have been allowed to be away from his post till after the strikes," said a former India hand at Pentagon who did not want to be identified fearing fallout for his new career in the private sector.
Here is an exchange from the daily briefing at the state department on Thursday where department spokesman John Kirby was present:
Q: Was there any prior consultation between the United States and India before the surgical strikes? I'm asking this because some media reports point out that Secretary Kerry has spoken to his counterpart and Susan Rice also spoke to her counterpart. So can you give us some —
KIRBY: I can confirm for you that the Secretary spoke with the — on the 27th, so earlier this week, with Indian external affairs minister Swaraj and reiterated his strong condemnation of the September 18th Uri attack. He condemned terrorism in all its forms and he cautioned against any escalation in tensions. Okay?
Did that statement imply what it seemed to have — "cautioned against any escalation in tensions"? Kerry, as head of a department traditionally unsympathetic to India, doesn't have that kind of mandate from the White House.
Else, said sources, National Security Advisor Susan Rice would not have been on phone with her Indian counterpart, Ajit Doval, few hours after, in a call initiated by her, to affirm US support for India.
"Pakistan (should) take effective action to combat and delegitimize United Nations-designated terrorist individuals and entities, including Lashkar-e-Tayyiba, Jaish-e-Muhammad, and their affiliates," said a White House readout of the call.
Did that look like an attempt to stop India?
Personalise your news feed. Follow trending topics