A timeline of recent attacks blamed on Islamists in Bangladesh
Jul 03, 2016 01:26 PM IST
Gunmen have stormed a restaurant in the diplomatic quarter of Dhaka, taking hostages while engaging security forces in a gunbattle that has left two officers dead, authorities say.
Gunmen have stormed a restaurant in the diplomatic quarter of Dhaka, taking hostages while engaging security forces in a gunbattle that has left two officers dead, authorities say. Some people in the restaurant managed to run to the rooftop and escape, but one witness says about 35 people are still trapped inside, including some foreigners.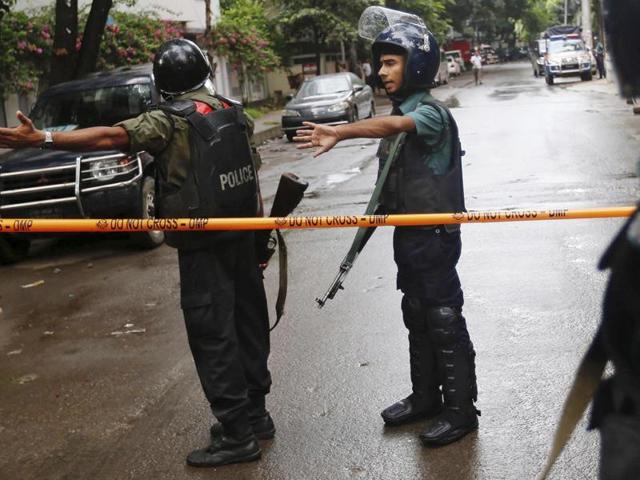 The hostage crisis was unusual for Bangladesh, but comes after several years of deadly attacks by radical Islamists targeting secular writers, publishers and members of Bangladesh's minority religious communities. Here is a list of those attacks, starting in 2013:
Feb. 15, 2013: Assailants wielding machetes kill secular blogger Ahmed Rajib Haider after he posts comments online about religious fundamentalism.
Feb 27, 2015: At least two assailants attack Bangladeshi-American blogger and writer Avijit Roy with meat cleavers, killing him and injuring his wife on a crowded street in Dhaka, the capital. A previously unknown group, Ansar Bangla 7, which intelligence officials believe is part of the Ansarullah Bangla Team, claims responsibility.
March 30, 2015: Three men use meat cleavers to hack 26-year-old blogger Washiqur Rahman Babu to death in Dhaka. Bystanders chase down two of the attackers, but a third escapes. The captured suspects say they are students at Islamic schools and were ordered to commit the crime. Police have been unable to determine who gave the order.
May 12, 2015: Four men with meat cleavers kill online atheist activist and science magazine editor Ananta Bijoy Das as he leaves his home in the northeastern city of Sylhet. Police arrest a newspaper photographer and two others. Al-Qaida on the Indian subcontinent, which is believed to be affiliated with the Ansarullah Bangla Team, claims responsibility.
Aug. 8, 2015: A fourth blogger, Niloy Chottopadhay, is killed by men who enter his Dhaka apartment, posing as potential tenants, and assault him with cleavers. The Ansarullah Bangla Team claims responsibility in an email, though the authenticity of the message has not been confirmed.
Sept. 28, 2015: Three assailants on a motorcycle gun down Italian citizen Cesare Tavella in Dhaka's diplomatic quarter. The Sunni extremist group Islamic State claims responsibility, according to the terror monitoring group SITE. Officials reject the claim and accuse local Islamist groups of attempting to destabilize the country. A month later, police arrest four suspects who say they were hired by "a big brother" to attack "a white man" to create chaos in the country, according to authorities.
Oct. 4, 2015: Masked assailants on a motorcycle kill Japanese citizen Kunio Hoshi, who was working in agriculture in northern Bangladesh. The Islamic State group claims responsibility, but the government again dismisses the idea that the group has any presence in the country.
Oct. 24, 2015: Attackers hurl homemade bombs into a crowd of thousands of Shiite Muslims as they gather for a pre-dawn religious procession in Dhaka. A teenage boy is killed and more than 100 other people are injured. Police arrest two suspects and recover two unexploded bombs. They dismiss an IS claim of responsibility and say the culprits were likely from the banned local group Jumatul Mujahedeen Bangladesh. On Nov. 26, security forces arrest six suspects after a gunfight that killed the group's alleged military commander.
Oct. 31, 2015: A group of men hack to death a publisher of secular books and wound three others in Dhaka. The publisher, Faisal Arefin Deepan, had close ties with the killed blogger Roy. The banned group Ansar al-Islam claims responsibility.
Nov. 26, 2015: At least five gunmen open fire on Shiite Muslim devotees during evening prayers at a mosque in northern Bangladesh. An elderly mosque official who had been leading the prayers is killed and three others are wounded. A group describing itself as an IS affiliate in Bangladesh claims responsibility and vows more attacks. Police detain two suspects for questioning.
Feb. 21, 2016: Two men armed with guns and cleavers hack a Hindu priest to death and remove his head at a temple in northern Bangladesh, an attack later claimed by the Islamic State. The men escaped the crime scene on a single motorcycle, but within days police arrest three suspects. The government again dismisses the IS claim.
April 6, 2016: Student activist for secularism Nazimuddin Samad is hacked and shot to death as he was walking home with a friend after attending an evening law class at a Dhaka university. The three masked assailants escape on a motorcycle while shouting "Allahu Akbar," or "God is Great." The banned group Ansar-al-Islam, the Bangladesh division of al-Qaida in the Indian Subcontinent, or AQIS, claims responsibility in the name of "vengeance."
April 23, 2016: Professor A.F.M. Rezaul Karim Siddique is hacked to death at a bus stop on his way to the state-run university in the Bangladeshi city of Rajshahi, where he taught English. His family says he had no known enemies. The Islamic State group claims responsibility, but the government dismisses the claim and instead blames local religious radicals.
April 25, 2016: Unknown assailants fatally stab USAID employee Xulhaz Mannan, who previously worked as a U.S. Embassy protocol officer and was an editor of Bangladesh's first gay rights magazine, as well as his friend, Tanay Majumder. The attackers had entered Mannan's apartment building by posing as couriers. The Islamic State claims responsibility.
April 30, 2016: Hindu tailor Nikhil Joarder is hacked to death by unidentified assailants in the central Bangladeshi district of Tangail. The Islamic State claims responsibility for the killing.
May 7, 2016: Unknown attackers hack to death a Sufi Muslim follower named Mohammad Shahidullah. No group has claimed responsibility, but police say the nature of the killing suggests the victim was targeted by suspected Islamist militants.
May 14, 2016: Maung Shue U Chak, a 75-year-old Buddhist monk, is found dead inside a monastery in the southeastern district of Bandarban. Police suspect Islamist militants for the killing.
May 20, 2016: Motorcycle-riding assailants hack village doctor Mir Sanaur Rahman to death while injuring his friend, university teacher Saifuzzaman, in the western district of Kushtia. The Islamic State reportedly claims responsibility for the attack on the two, both followers of the Baul philosophy, which radical Islamist groups describe as anti-Islamic.
May 25, 2016: A Hindu shoe shop owner, Debesh Chandra Pramanik, is killed in the northern district of Gaibandha. The Islamic State claims responsibility.
June 5, 2016: At least three unidentified assailants shoot and hack to death Mahmuda Khanam, wife of a senior police official who had raided dens of suspected militant group and was a key man for some arrests, in the southeastern city of Chittagong. Police say Islamist militants are behind the killing.
June 7, 2016: Anando Gopal Ganguly, a 70-year-old Hindu priest, is shot dead by suspected Islamist militants in southwestern district of Jhenaidah. Police say three men on a motorbike first shot Ganguly and then slashed him with sharp weapons before they fled the scene.
June 10, 2016: Nitya Ranjan Pandey, a Hindu priest, is hacked to death in northern district of Pabna. Police suspect Islamist militants are behind the attack.
June 15, 2016: Ripon Chakravarty, a college teacher and a Hindu, is attacked by unidentified youths at his home in the Madaripur district. He survives the attack despite deep wounds. Neighbors chase the attackers and catch one of them — an 18-year-old college student from the capital, Dhaka. Police say the suspect, Golam Faizullah Fahim, is a member of the banned group, Hizbut Tahrir.
July 1, 2016: A Hindu temple worker is hacked to death by suspected Islamist radicals while he plucked flowers for his morning prayers in southwest Bangladesh. Police say at least three assailants were involved, fleeing on a motorcycle after hacking and stabbing Shyamonando Das.
July 1, 2016: A group of up to nine gunmen storm the popular Holey Artisan Bakery in Dhaka's diplomatic zone, taking hostages and engaging security forces in a gunbattle. At least two officers are killed and several dozen are wounded. The Islamic State claims responsibility, according to the SITE Intelligence Group which monitors jihadist activity online, but the U.S. State Department says it cannot immediately confirm the claim.