Fancy a drink? This edible blob of water may be for you
The new spherical form of packaging, called Ooho and described by its makers as "water you can eat", is biodegradeable, hygenic and cheaper than plastic.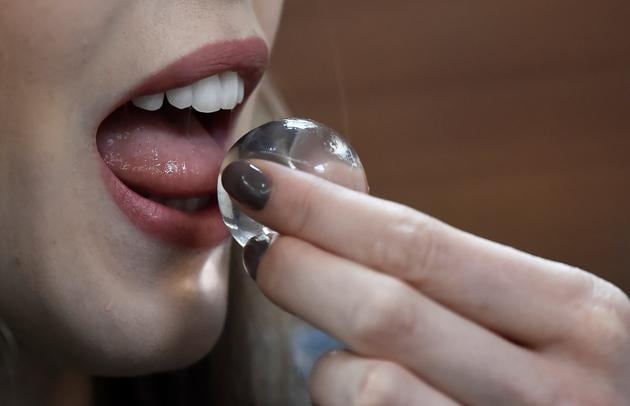 Updated on Apr 17, 2017 08:05 PM IST
Picture this. You're seated at a restaurant and the waiter comes up to you and asks: "Tap water or bottled"? "Bubble," you say as you whip out a small transparent wobbly sphere of water and swallow it whole.
Nope, that ain't science fiction. It's nearing reality now.
A London-based start-up has come up with a unique solution to cut plastic waste - by creating edible spheres containing water that eliminate the need for containers. The spheres, called "Ooho", have a jelly-like membrane made of plant and seaweed extracts that decompose after four to six weeks if not consumed.
Skipping Rocks Lab - Ooho! - Crowdcube pitch from Skipping Rocks Lab on Vimeo.
The start-up company, Skipping Rocks Lab, says its mission is to make packaging waste disappear by creating a sustainable alternative, as many cities around the world struggle to dispose of vast numbers of used plastic water bottles. It says on its crowd-funding page that the packaging is cheaper than plastic and costs less than two cents to make.
There are two ways to drink from the flexible globes - by tearing a hole and pouring into your mouth, or consuming it whole. In a trial near London Bridge, the innovative balls drew a mixture of surprise, amusement and delight among those who sampled them.
There are issues, of course, that remain to be resolved. How, for example, can the balls be transported and carried around reliably without leaking or making a mess when someone drinks from them?
But while the creators - London engineers Rodrigo Garcia Gonzalez, Pierre Paslier, and Guillaume Couche - figure these out, they've already won awards and been noticed for their design - winning the second annual Lexus Design Award and being featured during the Milan Design Week.
One of the markets they plan to target is that of marathon runners, who will be able to dispose of the balls mid-race without concerns about the environment.
And then there's another, more fun use for the Ooho balls.
"People see these small round bubbles and they just think 'shots'. So that's definitely something we're looking at," said Skipping Rocks Lab Chief Operating Officer Lise Honsinger.
"We have encapsulated alcohol, we want to perfect it, and then hopefully this will be the Jaegerbomb of the future."
(With Reuters inputs)
Close Story
Personalise your news feed. Follow trending topics