'I'm more angry, more committed': Donald Trump jumpstarts 2024 US election bid
AFP | | Posted by Singh Rahul Sunilkumar
Jan 29, 2023 01:27 AM IST
Buffeted by political and legal headwinds, Donald Trump, the 76-year-old Republican delivered a keynote address to grassroots activists and lawmakers in New Hampshire, ahead of a headlining appearance at a rally in South Carolina.
Donald Trump vowed to take on the "corrupt political establishment" Saturday as he bid to revive a faltering third run for the White House in two US states that launched his winning 2016 presidential campaign.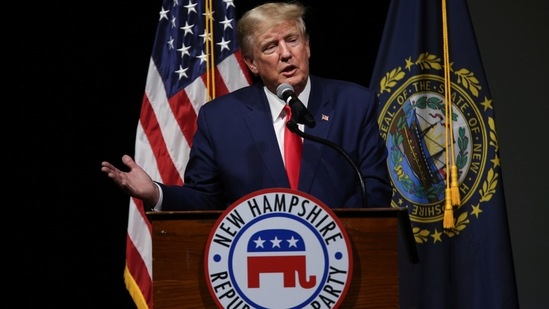 Buffeted by political and legal headwinds, the 76-year-old Republican delivered a keynote address to grassroots activists and lawmakers in New Hampshire, ahead of a headlining appearance at a rally in South Carolina.
"We need a leader who is prepared to take on the forces laying waste to our country," he told a crowd of several hundred in the New Hampshire commercial hub of Salem.
"We need a president who's ready to hit the ground running on Day One."
The events were being seen as a chance to revitalize a stuttering campaign amid criticism over Trump's failure to make any public appearances since he announced his latest run in November.
But there was no discernible shift in his messaging as he launched immediately into his oft-debunked claims of a stolen 2020 election and reprised his litany of disparaging nicknames for his political rivals.
ALSO READ: Donald Trump must follow these rules to not get blocked by Facebook, again
His most divisive recriminations were reserved, though, for the conservative critics he refers to as "RINOs" -- Republicans in name only -- whom he said were "even more dangerous than Democrats."
He touted his record on law and order, immigration and "rebuilding" the US military as he vowed to save the country from "being destroyed by a selfish, radical, corrupt political establishment."
"I'm more angry now and more committed now than I ever was," Trump said.
The former property magnate is the only major declared candidate so far, but several high-profile Republicans have fueled speculation about potential rival bids amid reports of waning grassroots support for the former president.
Trump was due to fly to South Carolina's capital Columbia after the Salem address in the late afternoon. There he will unveil a leadership team and fresh set of endorsements.
'Horrible, horrible people'
Both states hold outsize influence as two of the first in every presidential election year to hold nominating contests -- known as "primaries" or "caucuses," depending on local custom.
They cemented Trump's frontrunner status in 2016 after a lukewarm start in Iowa.
But he has reportedly struggled to hold together a support base in South Carolina amid simmering discontent over his endorsements of candidates that lost swing state races in November's midterms.
The nomination could wind up a two-horse race between Trump and Florida Governor Ron DeSantis, who came out on top in a straw poll at the National Pro-Life Summit in Washington just last weekend.
Polling at this early stage in the cycle has not been particularly elucidating, however, with some hypothetical match-ups showing Trump trouncing DeSantis and others suggesting the opposite would happen in a head-to-head.
ALSO READ: 'Then come nukes': Trump mocks as Zelensky wants jets from West after tanks
The biggest roadblock on Trump's path to the nomination may end up being his mounting legal woes, with a quasi-independent "special counsel" appointed to look into numerous allegations of misconduct.
"These are radical left-wing prosecutors who are absolutely horrible, horrible people," Trump said, vowing to investigate the Justice Department if he is re-elected.
He is under the spotlight over his handling of classified documents found in an FBI raid of his beachfront mansion in Florida, his role in the 2021 insurrection and, in Georgia, his attempts to overturn his 2020 election defeat.
"One year from now we will win the New Hampshire primary," Trump told the crowd.
"And then, with the help of the good people of the state -- I love the people -- we are going to take back our country and we'll take back the White House and we're going to straighten out the United States."