'Tariff king' India wants trade deal to keep me happy, says Donald Trump
Donald Trump's remarks came days after Assistant US Trade Representative Mark Linscott returned from India where he had detailed discussion with senior Indian officials on bilateral trade and a possible trade deal between the two countries.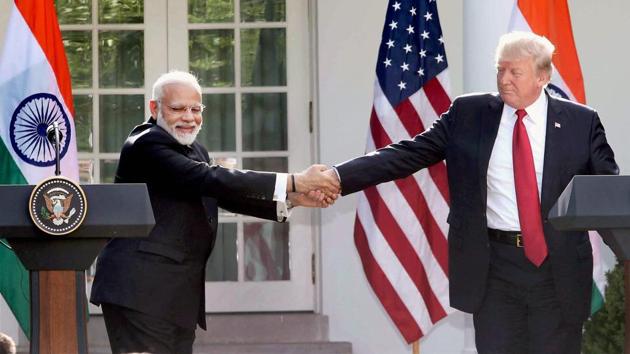 Updated on Oct 02, 2018 12:21 AM IST
Hindustan Times, Washington |
Yashwant Raj
US President Donald Trump on Monday escalated ongoing trade tensions with India, calling the country a "tariff king" for the first time and accusing it of slapping levies as high as 100%.
Insisting that he shared a good relationship with India and Prime Minister Narendra Modi, Trump said New Delhi wanted to start trade talks with the US "immediately". He added he was told no one had ever asked India to lower tariffs.
India wants to talk because it wants to "make your president happy", Trump said while announcing a new tripartite trade deal with Mexico and Canada, replacing the quarter-century-old North American Free Trade Agreement (Nafta).
"India is a very, very high tariff (country)," he said in response to a question on why he called it "tariff king".
"They really charge tremendously high tariffs. On motorcycles it is 100%…it's so high, it's like a barrier."
He acknowledged India had "substantially" reduced the rate but insisted it was still high.
Trump was referring to some high-end motorcycles that come to India in completed form, including those of Harley-Davidson. There was a 100% duty on them, which has since been slashed.
But Trump has threatened a reciprocal levy on Indian motorcycles that are not subject to similar rates when they enter the US. He has been arguing his trade case against India at all forums, including political rallies. Japan, the EU and China get the same treatment, and he is usually much harsher on them.
India and the US have been in talks on trade and related issues for months, especially after Washington slapped a uniform tariff of 25% and 10% on all steel and aluminum imports. India, which was impacted, announced retaliatory measures and has gone to the World Trade Organization.
Talks picked up momentum after India offered to discuss all trade issues, something Trump has mentioned several times. On Monday, he said the Indian side called to open trade talks, which he added was "shocking".
Several rounds of discussions have taken place, with the US pressing India to lift trade barriers, especially on medical devices and poultry, holding up an American trade promotion programme of zero-import duties for developing nations, of which India has been the largest beneficiary.
The US has been in talks with India to reduce tariffs and other barriers, and contrary to Trump's claims, this has been an ongoing discussion, brought up by previous administrations. The issue has acquired new urgency now due to the new tariffs he has imposed or threatened.
Close Story