US and Japan deepen security alliance; hail Quad as a 'force for good'
Jan 15, 2023 04:10 AM IST
The US reiterated its "unwavering commitment" to Japan's defence, including the Senkaku Islands - a disputed area which China has claimed as its own - and lauded Tokyo's recent moves to reorient its national security and defence posture.
Explicitly stating that China's actions in the Indo-Pacific have been "inconsistent with the rules-based international order", US President Joe Biden and Japan's Prime Minister Fumio Kishida have said that the US-Japan alliance remains the "cornerstone of peace, security and prosperity of the Indo-Pacific" and termed Quad as a "force for good".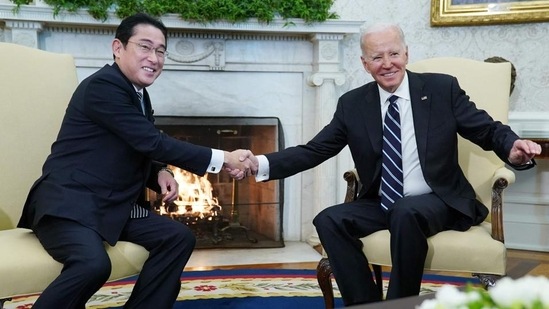 In the course of what analysts have termed as a historic visit to Washington DC, Biden hosted Kishida at the White House on Friday. In a joint statement released at the end of the meeting - which comes in the backdrop of high-level engagement between foreign and defence ministers of both countries under the 2+2 format, and the Japanese PM's trip to Europe over the past week - the two countries said their "security alliance has never been stronger".
Also Read: Additional classified material discovered at Joe Biden's family home in Delaware: White House
The US reiterated its "unwavering commitment" to Japan's defence, including the Senkaku Islands - a disputed area which China has claimed as its own - and lauded Tokyo's recent moves to reorient its national security and defence posture.
Biden and Kishida agreed to align their "collective force posture and deterrence capabilities" to meet new threats, including in the cyber and space domains; reinforce cooperation on the development and employment of Japan's counterstrike capabilities; deepen cooperation on critical and emerging technologies; and adopted a common position on Taiwan. "We emphasise that our basic positions on Taiwan remain unchanged, and reiterate the importance of maintaining peace and stability across the Taiwan Strait as an indispensable element of security and prosperity in the international community. We encourage the peaceful resolution of cross-Strait issues."
Also Read: '3,500 hrs of torture, forced me…': British dual national before Iran hanged him
The Quad factor
The US and Japan also affirmed the importance of two institutional mechanisms which have India as a key partner - Quad and the Indo-Pacific Economic Framework (IPEF).
Stating that they will collaborate with others in the region and beyond for the benefit of Indo-Pacific and the world, the US and Japan said that "together with Australia and India", they will ensure that Quad remains a force for good - "committed to bringing tangible benefits to the region, including by delivering results on global health, cybersecurity, climate, critical and emerging technologies, and maritime domain awareness".
Washington DC and Toyo have also agreed to "build resilience in our societies and supply chains among like-minded partners against threats such as economic coercion, non-market policies and practices and natural disasters, accelerate global efforts to tackle the climate crisis, and advance data free flow with trust". In this backdrop, they said that IPEF was at the centre of achieving these goals.
In a separate policy speech at the Johns Hopkins University in Washington DC, Japan's PM laid out the context of Tokyo's new national security outlook. Suggesting that the "free, open and stable international order" was under "grave threat", Kishida said he had made two major decisions in 2022 - the first was to actively oppose Russia's aggression in Ukraine and the second was to formulate a new national security strategy, national defence strategy and defence build-up programme. Collectively, the new documents have announced Japan's intent to raise its defence spending to 2% of the GDP; possess counterstrike capabilities; increase cybersecurity responses; and step up defence posture in Japan's southwest region.
The importance of India
While outlining Japan's engagement with G7, the US, the global South and elaborating on the nature of the China challenge, Kishida underscored the importance of India. "India is this year's G20 Presidency and a partner with shared fundamental values and strategic interests. India is expected to surpass China's population and stands as the world's largest democracy."
Kishida said that Tokyo will further enhance the "Japan-India Special Strategic Global Partnership" and continue to work together in pursuit of a free and open Indo-Pacific.
Japan is the current chair of the G-7, and has also just got elected to the United Nations Security Council as a non-permanent member for the next two years. Tokyo's firm position against Russia, its pioneering role in formulating the idea of a free and open Indo-Pacific, its growing strategic rivalry with China, and its aim to become a major defence power in its own right have lent the Japan-US relationship new momentum in recent years.