Protests in Pakistan after 8-year-old raped, murdered, body found in trash
Police in Kasur town of Pakistan's Punjab province allegedly opened fire at demonstrators protesting the rape and murder of a minor girl.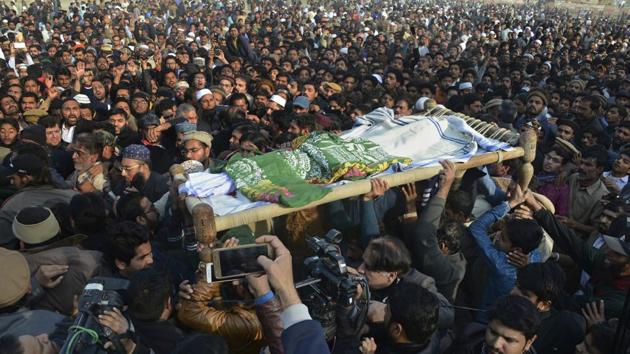 Updated on Jan 10, 2018 09:50 PM IST
Hindustan Times, Islamabad | By Imtiaz Ahmad
, Islamabad
The alleged rape and murder of an eight-year-old girl in Pakistan's Punjab province triggered violent protests that left two people dead in police firing on Wednesday.
Kasur town, located a short distance from the border with India, had been tense after the girl disappeared on January 4 while on her way home from a tuition centre. Her parents were away on a pilgrimage to Saudi Arabia, and her family circulated CCTV footage on social media that showed her with an unidentified man.
On Tuesday, a constable deputed to trace the girl recovered her body from a garbage heap, with police saying she seemed to have been killed four or five days ago. Reports said she was allegedly raped multiple times before being strangled. The body was sent to the district headquarters hospital for an autopsy.
On Wednesday, demonstrators armed with sticks and stones tried to stormed the deputy commissioner's office during protests over the girl's death. Two people died of gunshot wounds after the police opened fire on the protestors and several others were injured. Footage on television showed policemen firing directly at the mob before being told by their superiors to fire in the air.
The girl's father, on returning to Pakistan on Wednesday, told the media that he would not bury her till justice was done. He also accused police of only being concerned with the security of politicians and not acting against persons who had been identified in connection with his daughter's killing.
Punjab law minister Rana Sanaullah appealed for calm, with the influential Dawn newspaper quoting him as saying that the provincial government had "taken notice of the case".
According to the report, police confirmed the girl had been strangled and officials described the incident as a "serial killing".
Local media reports said the girl's murder was the twelfth such case in Kasur over a period of one year. Kasur had hit the headlines in 2015 when a gang of paedophiles running a child sex ring was busted in the town. The gang allegedly abducted and sexually assaulted 280 children and blackmailed the families of some victims since 2009.
Close Story