India, China taking advantage of US, says Donald Trump
Updated on Nov 11, 2015 02:14 PM IST
Republican presidential candidate Donald Trump has accused India and China of taking advantage of the US.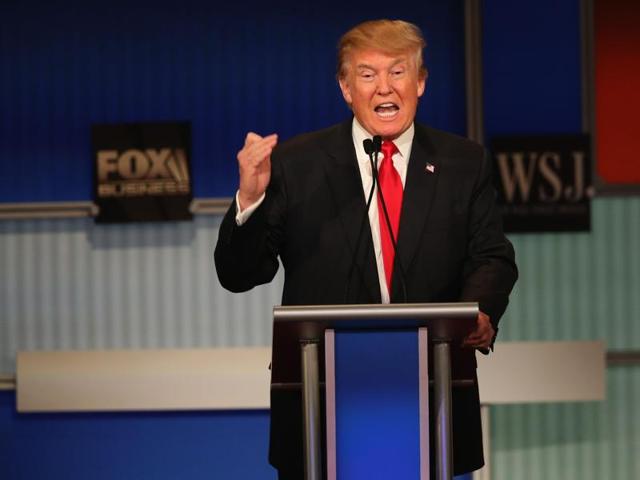 Republican presidential candidate Donald Trump has accused India and China of taking advantage of the US as the eight top tier candidates clashed over issues ranging from trade to foreign policy to immigration.
"If you look at the way China and India and almost everybody takes advantage of the United States -- China in particular, because they're so good," real estate mogul said during Tuesday night's fourth Republican presidential debate in Milwaukee.
"It's the number-one abuser of this country. And if you look at the way they take advantage, it's through currency manipulation," he said calling the proposed Trans-Pacific Partnership (TPP) among twelve Pacific Rim countries a "terrible deal."
"It's not even discussed in the almost 6,000-page agreement. It's not even discussed," Trump complained before Kentucky senator Rand Paul suggested to the moderators that "we might want to point out China is not part of this deal." Nor is India.
Trump also faced scepticism from his rivals over his plans to deport 11 million illegal immigrants with Ohio governor John Kasich calling it "silly".
"Come on, folks, we all know you can't pick them up and ship them back across the border. It's a silly argument. It's not an adult argument," he said.
Jen Bush, son of a former president and brother of another also rejected Trump's call for deportations, saying it hurt the party's ability to reach out to mainstream audiences: "They're doing high-fives in the Clinton campaign right now when they hear this."
But Texas senator Ted Cruz called Bush's plan "amnesty". He joked that party elites and the mainstream media were easy on Bush because they don't feel the economic threat that immigrants pose to working-class Americans.
If people were coming across the Rio Grande with journalism degrees, Cruz said, the American media would suddenly see immigration as a major problem.
On the question of how to handle the Islamic State and Russia, Trump called for the US to stay out of more confrontations saying "We can't continue to be the policeman of the world."
"If Putin wants to go and knock the hell out of ISIS, I am all for it," Trump said, noting that he had met Russian President Vladimir Putin through a "60 Minutes" episode.
Bush quickly shot back. "Donald is wrong on this" he said. "We are not going to be the world's policemen, but we sure as heck better be the world's leader."
Retired neurosurgeon Ben Carson, who is running neck and neck with Trump in polls, blasted the media for what he characterised as lies about his past. Carson also said the press is treating Democratic front-runner Hillary Clinton more favourably.
"I have no problem with being vetted. What I do have a problem with is being lied about," Carson said.
Personalise your news feed. Follow trending topics