Immunisation: Strengthening the foundation for India
Mar 22, 2016 09:32 PM IST
Launch of the rotavirus vaccine is a step in the right direction as we embark towards realising the targets of the newly-adopted Sustainable Development Goals, as it will greatly help in reducing child mortality and ensure healthy lives
Child mortality and morbidity are some of the gravest threats our nation faces today. This is not in line with our country's aspirations in this day and age. Recognising this, the Centre has taken up the responsibility to address this issue with acute urgency. Evidence suggests that diarrhoea is one of the leading causes of deaths in under-five children in India. Every year 27 million children are born in India and close to 1.2 million die before their fifth birthday, including approximately 100,000, who die due to rotavirus-induced diarrhoea. To tackle this, the Centre will launch the rotavirus vaccine in a phased manner starting with four states — Himachal Pradesh, Odisha, Andhra Pradesh and Haryana. Launch of the rotavirus vaccine is a step in the right direction as we embark towards realising the targets of the newly-adopted Sustainable Development Goals (SDGs), as it will greatly help in reducing child mortality and ensure healthy lives.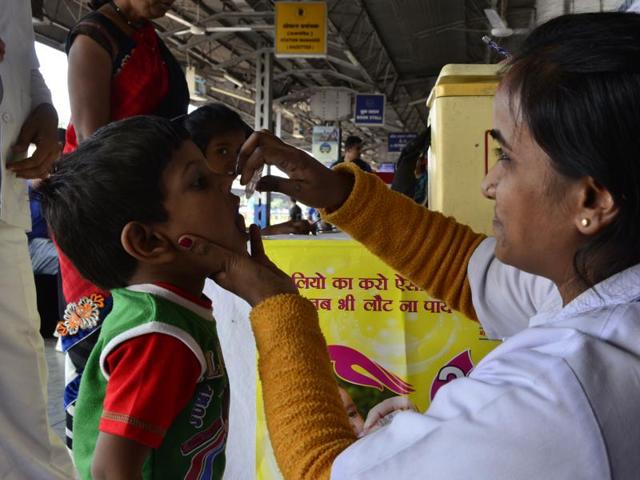 The rotavirus vaccine, which will be introduced very soon in the country, has been indigenously developed. It is a safe vaccine with many benefits and rare side-effects. This is a big win for India's research and development efforts which are increasingly boosting our fight against (deadly) diseases. The government is poised to lead the fight against this deadly disease to deliver on the promise it made when it came to power.
Read | Rotavirus vaccine to be available for free in state from February
There has been a commitment on the part of other countries and health organisations to address the issue of deaths due to diarrhoea. Recognising its need in India, the government has laid out a comprehensive plan to deal with public health issues. Initiatives such as Swachh Bharat Abhiyan complement public health programmes and will simultaneously address health issues by focusing on sanitation to prevent the spread of diseases caused mainly due to an unhygienic environment. In order to reduce child mortality due to other infectious diseases, we are adopting a holistic approach to child health with special focus on nutrition, safe drinking water and improved sanitation. Our aim is to ensure that each child lives and all children realise their full potential and contribute to the growth and development of the country. Only then we shall be able to harness the demographic dividend of a young nation.
Immunisation is a cost-effective exercise that will help the country in two ways. The aim is not only to make improvements in health but also invest in human capital that will contribute to India's economic growth in the future. Not only this, immunisation helps in significantly reducing poverty. The cost of hospitalisation and overall treatment owing to the rotavirus infection in India runs in crores of rupees. India spends ₹490 crore and ₹538 crore on hospitalisation and outpatient visits each year on an average, respectively. Interventions such as immunisation will go a long way in reducing the economic burden of diarrhoea on families and the society; often families slip into an irreversible state of poverty due to the expenditure on healthcare. This money can be diverted to educate a child and can help in her overall cognitive development.
Read | Union Health Ministry's Reportcard
The Government has made appreciable strides in the last one year towards fulfilling the commitment to reduce child deaths in the country. In 2014, we announced the introduction of four new vaccines, including the rotavirus vaccine in the Universal Immunisation Programme. Mission Indradhanush was implemented in April 2015 with an aim to cover unvaccinated and partially-vaccinated children against seven preventable diseases like Diphtheria, Pertussis, Tetanus, Polio, Measles, Tuberculosis and Hepatitis B. It aims to expand full immunisation coverage to more than 90% children from the current 65% across the country by 2020. Phases 1 and 2 of Mission Indradhanush have been successfully completed. Over 142 lakh children were vaccinated during this period; of which about 37 lakh were fully vaccinated in 480 high focus districts across the country.
To accelerate the process of immunisation, the five-in-one Pentavalent vaccine has now been rolled out across India. In order to provide double protection against polio, in November 2015, the government introduced the injectable Inactivated Polio Vaccine (IPV), which is to be administered to children along with Oral Polio Vaccine.
India's success in polio eradication and the recent validation for Maternal and Neonatal Tetanus Elimination (MNTE) have been monumental, to say the least. They reiterate our faith in the power of vaccines. We need to replicate this success in our fight against diarrhoea as well. The health systems and infrastructure built as part of the polio immunisation programme will be used for rotavirus vaccine also.
The government is fully committed to check under-five deaths and safeguard every child's right to health. I urge the people of this great country to reap the benefits of this initiative to ensure that your children have a healthy future. We remain focused on ensuring that preventive health care measures are accessible to all.
We have made significant progress in the area of child survival. However, impediments abound that prevent several children from receiving vaccination. Immunisation is only a step but a very important one towards investing in the future of India. That no child dies of vaccine preventable diseases, should be our dream and I am hopeful that we will realise this dream very soon. We are strengthening the foundation for India, which is both healthy and productive.
JP Nadda is Union minister of health and family welfare
The views expressed are personal
"Exciting news! Hindustan Times is now on WhatsApp Channels
Subscribe today by clicking the link and stay updated with the latest news!"
Click here!