Sachin or Gavaskar? Know your history before calling a cricketer 'god'
Updated on Apr 01, 2016 06:30 PM IST
In an age in which cricketers are better-known for the money they earn and the number of their product endorsements rather than the cricket they play, it is no surprise that the player who 'replaced' Bradman as the world's all-time best batsman is also called 'god of cricket'. Never mind if his Test average is 53 or 54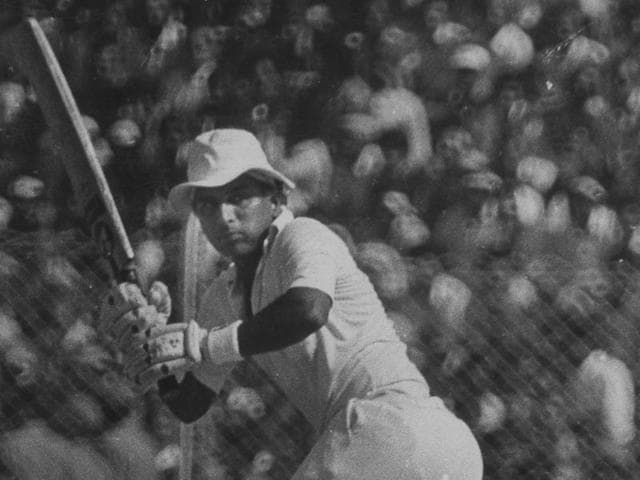 In an age where one (very good) batsman after the other is deified, it's worth remembering how Harold Larwood, the English fast bowler of the 1920s and 1930s, described the helmet-wearing batsmen of these days. "Trussed up like turkeys", he growled. "[They] should stand up and be counted like men."
Larwood was thus quoted in the Wisden obituary after he died in 1995. He did not live to see that one of the 'trussed-up turkeys' is now recognised as better than Don Bradman, who averaged 99.94 playing on uncovered wickets.
Larwood had been assigned the task to 'finish off' Bradman in the infamous Bodyline series of 1932-33 and succeeded, after a fashion: Bradman averaged "only" in the fifties in the five-match rubber.
In an age in which cricketers are better-known for the money they earn and the number of products they endorse rather than the cricket they play, it is no surprise that the player who 'replaced' Bradman as the world's all-time best batsman is also called 'god of cricket'. Never mind if his Test average is 53 or 54.
Read | The joke's on Dhoni: Why his banter with journo is no laughing matter
The average is one aspect of the matter. Until the mid-seventies, the batsmen had none of the accoutrements that their modern counterparts are togged out with. Some of those protective embellishments are the helmet, chest guard, thigh guard, shin guard, elbow guard, and what not (the modern equivalents of the casque, corselet, greaves and the braces that medieval warriors wore). And, as noted above, they batted on uncovered wickets. I, for one, saw in 1974 what it was to play Andy Roberts in those conditions. Some Indian batsmen literally quaked before his thunderbolts.
Finally the playing arena was generally much bigger that what it is today. With due respect to them, Sachin Tendulkar (the "god" mentioned above) and heir apparent Virat Kohli would have found it more difficult to hit sixes then. Just a turn of the wrist would not do the trick. (It did, though, with Vivian Richards, who, despite playing in the helmet age, did not wear the helmet. But then Richards was Richards.)
Read | World T20: Kohli's heroics in vain as teammates let him down
Given these factors, is it fair to call someone the 'god of cricket', to the exclusion of all? For Sunil Gavaskar, who too did not wear the helmet, the epithet 'great' was justified. Very sober was his response in 1983 after he scored his 29th century, equalling the then record number of hundreds scored by Bradman. "Had Sir Don played as many Tests he might have scored 75 centuries," said Gavaskar. But what about some others who played later? Their greatness comes at the expense of some whom we have chosen to forget.
How many of today's cricket fans know of Vijay Merchant, whose batting average in first-class cricket has so far been the highest after Bradman's? How many of them know of Vijay Hazare, whose best playing years were lost to World War 2, and who made his debut when he was 31 and ended with an average of 47?
One can bowl with no vision in one eye, but can one bat with that handicap? Pataudi did and scored six centuries. On uncovered wickets and without the helmet.
Seeing the way Lendl Simmons of the West Indies batted against India in the semi-final of the T20 World Cup, how is he inferior to any 'great' Indian batsman?
Cricket is an institution that's to be studied. One should know a bit of its history before deifying a cricketer.
(The views expressed are personal.)