Asian Games 2018: Fouaad Mirza creates history as India win two silvers in Equestrian
Jakarta |
Press Trust of India
Aug 26, 2018 02:26 PM IST
Fouaad Mirza won the silver medal with a score of 26.40 in the eventing equestrian event at the Asian Games 2018.
Fouaad Mirza today became the first Indian to win an Asian Games individual medal in the equestrian event since 1982 besides guiding the country to a second-place finish in the team competition in Jakarta on Sunday.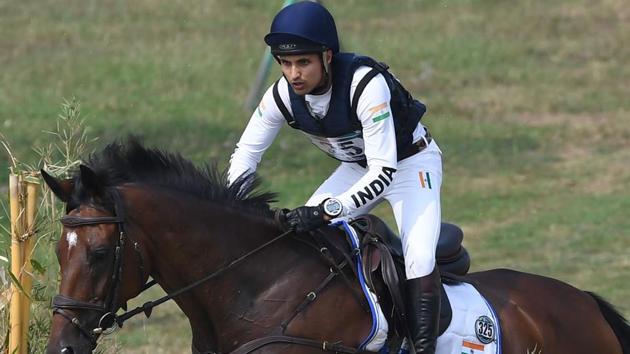 Mirza won the silver medal in individual jumping with a score of 26.40, while Japan's Oiwa Yoshiaki clinched the gold with a score of 22.70.
China's Hua Tian Alex finished in third position to win the bronze medal, with a score of 27.10.
The Indian team, comprising Rakesh Kumar, Ashish Malik and Jitender Singh apart from Mirza, also claimed the silver with a score of 121.30, the feats coming days after their last-minute arrival owing to infighting in the Equestrian Federation of India.
Japan finished on top with a score of 82.40, while Thailand bagged the bronze with a score of 126.70.
Fouaad topped the dressage and cross-country qualifiers with a score of 22.40 and went into the jumping finals as a favourite. In the medal round, he notched up 26.40 to bag silver in the three-day competition.
Fouaad, who has been training under German Olympian Bettina Hoy, is the first Indian to win in Europe.
The 26-year-old made the Indian team after racing his way to victory in the first two trials at the Asian Games CCI equestrian event held in Montelibretti, Italy last year. He emerged as the spearhead for the Asian Games on the basis of his performance then.
FOLLOW: Asian Games 2018, Day 8 live scores and updates:
After his impressive showing in Italy, he competed in France before displaying his skills in a couple of championships in Germany.
Fouaad's feat came days after the Indian equestrian team's nightmarish journey to the Indonesian capital as it got accreditation only a day before it was scheduled to leave for the Asian Games.
Infighting among office-bearers in the Equestrian Federation of India, which saw the EFI declare the selection null and void, only made it worse for the athletes.
In the event, the horses, along with the riders, are timed from a start and a finish line, and a final score is obtained by combining the number of jumping faults (4 points for every jump knocked down), number of refusals (a refusal is when the horse refuses to jump), and time faults (if the rider takes more time than the stipulated limit).
Two refusals in the event lead to elimination.
India had previously won 10 medals in the sport, including three gold.
The last individual medal in eventing came in 1982 when Raghubir Singh finished on the podium in the Indian capital.