Assam rivals battle it out over incomplete bridges in poll season
Locals' discontent over the delayed construction of the Bogibeel bridge is being used by the BJP to target Congress in Assam, during assembly elections. Sanctioned in 1997, the bridge has missed several deadlines.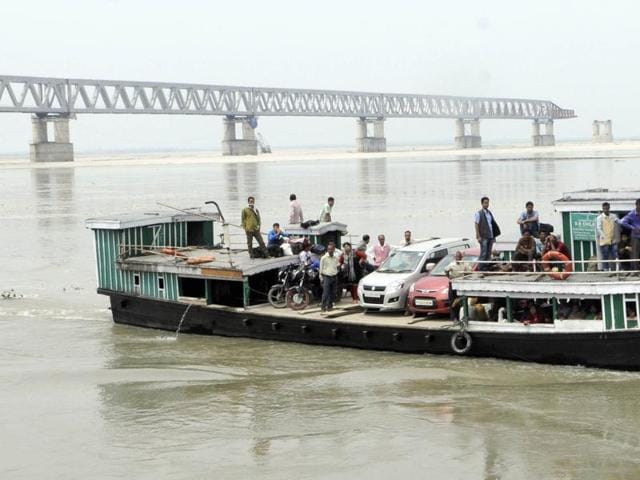 Published on Apr 04, 2016 07:16 PM IST
Guwahati/Dibrugarh: A bridge being built over the Brahmaputra that is slated to be India's longest rail-road link is at the centre of an all-out poster war between the BJP and Congress in poll-bound Assam.
Residents say construction of the 4.95 km-long Bogibeel Bridge that will connect Dhemaji on the north bank with Dibrugarh on the south has been going on forever.
The discontent has become a weapon for the BJP that has put up election hoardings across Guwahati, some of which read: "Could not complete Bogibeel Bridge in the past 15 years. Even constructing Taj Mahal didn't take this long! Mr Gogoi, the time for you to answer is over."
Sanctioned in 1997, the bridge has missed several deadlines.
"One construction project should not take that long. Congress was in power for 10 long years. It was all in their hands," said Rupam Goswami of the BJP Assam Pradesh committee.
Goswami alleges the Congress government did not forward the budget given for the completion of the bridge. Union sports minister and chief ministerial candidate Sarbananda Sonowal last month announced Rs 500 crore to expedite the project.
Funds, however, are not the issue. At least that is what the Northeast Frontier (NF) Railway says.
"Various tenders, regarding superstructure and substructure, couldn't be finalised in time, hence the delay. Fund is not a concern and the state government is not responsible for the delay," said Pranav Jyoti Sharma of NF Railway.
The rail administration expects to commission the Bogibeel Bridge by June, 2017, with an estimated cost of around Rs 5,000 crore, up from the initial Rs 1,767 crore.
Soon after Sonowal's announcement, Union road minister Nitin Gadkari visited the state and laid foundation stones for several projects, including two bridges on the Brahmaputra that will connect Sivasagar with North Lakhimpur and Jorhat with Lakhimpur via Majuli.
He promised to spend nearly Rs 100,000 crore on roads and bridges in the Northeast in the next five years. The Congress called it an election stunt while locals gave a mixed response.
There are three bridges that connect the Brahmaputra's south bank with its north. Two rail-road bridges – Naranarayan setu and Saraighat setu – exist in Goalpara and Guwahati. The third, Kaliabhomora bridge that connects Tezpur on the north bank, is a vital route that connects Arunachal Pradesh.
Another bridge is nearing completion further upstream of Bogibeel and will connect Sadiya in Tinsukia district. The work on the 9.15km road bridge started in 2011 and was supposed to be completed by 2014.
People travelling to Sadiya or Majuli rely on ferry services that require travelling to ill-maintained ghats, a nightmare during the monsoon season.
Jamini Payeng, a resident of Majuli, narrated a scary situation one can get trapped in during an emergency situation. Last year, her brother fell sick and was referred to Jorhat, nearest city across the Brahmaputra, by doctors in Majuli.
"The last ferry leaves at four. It was dark by then and the river was flooded, so, the boat ambulance refused to come. We had to pay Rs 8,000 to just take him across. Instead of spending that amount on his treatment, we spent on communication," said Payeng.
Gogoi, in a statement, said Gadkari laid the foundation stones for the bridges without preparing a Detailed Project Report.
The North-East Affected Area Development Society's Tirtha Saikia believed it was just another election promise. "Majuli is one of the most flood-hit and an erosion-prone area. We aren't even sure of the future of Majuli," he said.
The NF Railway official said people should understand projects in the Northeast have different challenges. "The moment monsoon starts, from around Bihu, till it ends in October-November, the work takes a hit and the progress is slow."
Close Story