Love and Relationship Horoscope for January 21, 2023
Jan 21, 2023 10:44 PM IST
Horoscope Today 21 January, 2023: A day full of love and affection. Find the love daily astrological prediction for Aries, Libra, Capricorn, Pisces, and other zodiac signs for January 21.
Aries: Things are about to change now. After being alone for some time, you may find it easier to plan the ideal first date. The two of you may arrange a fun outing. Have a good time and get to know this individual. Try something new with your significant other if you're already in a relationship. It might be helpful to take a break from your stressful day by going to a movie. Read Aries Horoscope Prediction for January 21, 2023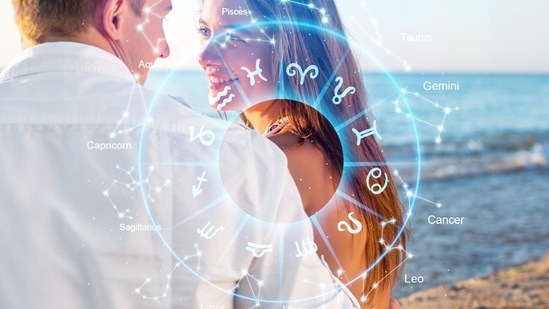 Also Read Horoscope Today
Taurus: Your passionate relationship will be in the spotlight. You are not in the mood to sit on your hands and let this chance to meet someone you have adored for a long time go away. You'll want to make a good impression and attract this person's attention. Test out a few different methods of flattery. Nothing works better than a long-winded discussion to know each other better. Read Taurus Horoscope Prediction for January 21, 2023
Gemini: Be ready to challenge your beliefs. Having effective conversations with your loved one will be quite impactful today, and you may expect to have many of your deeply held beliefs challenged. You may feel some discomfort during this process, but know that it is for the greater good of your existing relationship. Be honest about how you feel and there will be no looking back. Read Gemini Horoscope Prediction for January 21, 2023
Cancer: An impetus to take action may be high on your agenda today. Someone you care about could be venting their frustrations with the current state of affairs. It's possible that every time you press on the accelerator, you're adding stress to the situation. An unsettled feeling is pushing you to take decisive action. However, be careful in what you choose else it may backfire. Read Cancer Horoscope Prediction for January 21, 2023
Leo: Get the respect you deserve in your partnership by asserting it. You two may be quite happy together, but eventually, your partner's hectic schedule may start to make you feel ignored and unwanted. If you take the time to be upfront and honest with your partner about how you feel, the simple act of communicating this can help to mend any rifts that have been created. Read Leo Horoscope Prediction for January 21, 2023
Virgo: You have a habit of screening through the wrong people to find those who possess the traits you value. Right now is the time, to be honest with yourself about your expectations for a life mate. Think about your future happiness and be truthful with yourself. Make sure the person you end up with is someone who treats you with dignity and who can make you happy for the rest of your life. Read Virgo Horoscope Prediction for January 21, 2023
Libra: Your thoughts may also be preoccupied with speculations regarding the long-term prospects of a certain romantic connection. If you're still processing how much you mean to each other, don't rush into anything just now. Promise only after much deliberation. Only get into a formal commitment if you can imagine a long-term future with this individual. Read Libra Horoscope Prediction for January 21, 2023
Scorpio: Make an effort to engage in some meaningful discussion and closeness today. Spend time with your partner and learn more about one another. You'll feel at ease because of the deep bond you've formed. Discover new depths of your bond by talking on a spiritual level. To improve your relationship, it's in both of your best interests to share more. Don't be quick to make snap conclusions. Read Scorpio Horoscope Prediction for January 21, 2023
Sagittarius: Try not to lose your cool or become frustrated too quickly today. It might be detrimental to your relationship if you harbour any resentment toward your mate. Couples could find themselves engaging in pointless argumentation. Being considerate of your partner's feelings might help you avoid this situation. Now is not the moment to lose your cool; instead, show patience and compassion. Read Sagittarius Horoscope Prediction for January 21, 2023
Capricorn: Get clarity in your thoughts and feelings. Today is a great opportunity for you to talk openly and honestly with your partner about your relationship. By sharing your deepest emotions, you may breathe fresh life into your relationship. It would not only free you from a significant burden of stress but also clear the way for passionate declarations to be made. Read Capricorn Horoscope Prediction for January 21, 2023
Aquarius: There will be a minor tendency for you to blow up for no apparent cause. Pay close attention to your partner's feelings and respond appropriately. Keep your cool and give yourself time to recover from this momentary setback to your patience. Ignoring your partner's sense of anxiety will not help your relationship and may even make your partner resentful. Read Aquarius Horoscope Prediction for January 21, 2023
Pisces: Today, focus on your loved ones and how much they mean to you. Don't wait another minute to tell them you care about them. If you feel strongly about addressing a severe issue, by all means, be direct about your feelings. Your emotions are your own business. Do not act like a victim. You're setting yourself up for more suffering and hatred down the road if you do that. Read Pisces Horoscope Prediction for January 21, 2023
By: Neeraj Dhankher
(Vedic Astrologer, Founder - Astro Zindagi)
Email: info@astrozindagi.in, neeraj@astrozindagi.in
Url: www.astrozindagi.in
Contact: Noida: +919910094779
"Exciting news! Hindustan Times is now on WhatsApp Channels
Subscribe today by clicking the link and stay updated with the latest news!"
Click here!