Hrithik Roshan on Koi Mil Gaya that revived his career: I realised it was okay to have weaknesses
Updated on Aug 09, 2018 04:11 PM IST
Hrithik Roshan's Koi Mil Gaya released 15 years ago and went on to become of the biggest hits of the year. In the process, it redefined Hrithik's career graph and gave birth to the Krrish franchise.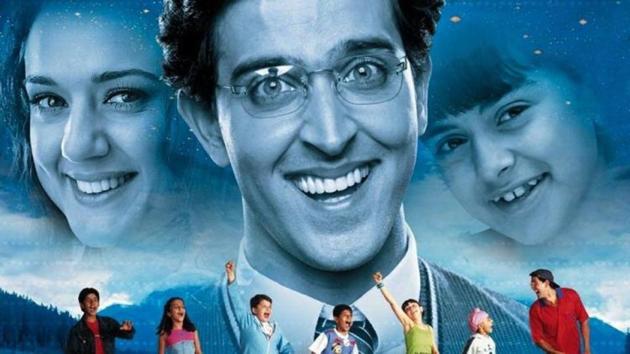 It is 15 years since Koi Mil Gaya released. On the occasion, Hrithik Roshan, the lead actor of the film, took to Instagram and shared a heartwarming post. In it, he talks about what he learnt from working in the film. Koi Mil Gaya not only revived Hrithik's career after a spate of flops such as Aap Mujhe Achche Lagne Lage and Main Prem Ki Diwani Hoon, it also established the Krrish franchise and gave India its first superhero.
Reminiscing the time when he did the film and played the character of Rohit, he said how he discovered a newfound strength in himself. He went on to say that "strength was not as important as courage" and that it was okay to have weaknesses. In fact, accepting that one has weaknesses and being okay about it is in itself a display of courage. He added how 15 years ago 'jaadu' happened in the theatres and in his life too.
With the long note, he also shared a video clip from the film, in which Preity Zinta (the film's heroine) and he are seen dancing in rain. The clip is from the song Idhar Chala Main Udhar Chala of the said film.
Rohit's character has since given Krrish (Indian superhero in Rakesh Roshan's films), Hrithik added.
Koi Mil Gaya was 2003 film directed by Hrithik's father Rakesh Roshan, which introduced us to a character Rohit, an intellectually challenged man (played by Hrithik) who accidentally helps save an alien. The film is about their relationship and how they are aided by his girlfriend and his group of friends, who incidentally are children. The alien is named Jaadu by the gang and he helps Rohit get better with his special powers.
Read the complete post here:
Koi Mil Gaya gave birth to Krrish, and in a weird way playing Rohit gave birth to a newfound strength in myself.
Rohit helped me understand every single thing I went thru as a boy with a stutter. And made me realize how everything that "is" was simply meant to be. He helped me understand that strength was not as important as courage. And that it was ok to have weaknesses. And that being ok with your weaknesses in itself was courage.
Another beautiful thing he taught me is never to assume what other people are thinking. He never did. Never tried to mind read others like we do so often in this age of sms and whatsapp. Rohit took things at face value or based on evidence.
A good tip for today's gen who should know that u can never really communicate the tone while typing the words. Today relationships are sometimes at the mercy of how the typed sentence is interpreted.
15 years ago jaadu happened in the theaters and another jaadu in my own life. So keep going. Others have said this before, I'm saying it now and you will say it one day looking back at the things that didn't make sense. It's all going to work out. I promise.
On its 15th anniversary, I'm sharing a few of my favorite moments from the film. I want to thank all the people who were part of this amazing journey. Especially my dad n mom. And ofcourse thank you to all of you for the love u gave me. #15yearsofkoimilgaya #itsmagic #itsallgoingtoworkout #jaadu #ipromise.
Follow @htshowbiz for more
Close Story
Personalise your news feed. Follow trending topics