I am trying to be both mother and father to my kids, says Boney Kapoor on life without Sridevi
May 25, 2018 09:47 AM IST
In an interview, Boney Kapoor talks about coming to terms with the sudden loss of his wife and Bollywood actor Sridevi.
Film producer Boney Kapoor who lost his wife, Bollywood star Sridevi earlier this year, has said he has been trying to resume his life and put things back together for the sake of his daughters Janhvi Kapoor and Khushi Kapoor.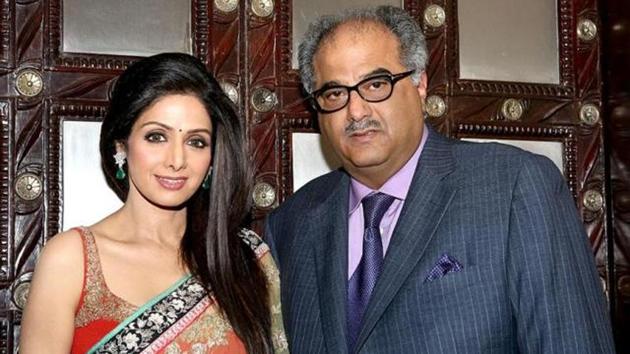 Speaking to Masala.com in an interview, Boney said, "She was suddenly gone. These past months have been very difficult. Everything went on a freeze-pause in our lives. There were so many things left unsaid and undone. Now I am finally picking up the pieces again trying to put my life together for my children's sake. There were things that were put on pause. I am trying to resume my life. I am yet to come to terms with the fact that she's gone forever."
Sridevi died suddenly in a Dubai hotel in February this year where she had gone to attend Mohit Marwah's wedding. She is said to have died due to drowning in her hotel bathroom, leaving millions of her fans across the globe shocked. Ever since Sridevi's sudden demise, Boney is often spotted along with Janhvi and Khushi. Even stepbrother Arjun Kapoor and stepsister Anshula have ensured that they extend support and are available for Janhvi and Khushi in these tough times.
Boney had also posted a tribute to his wife after her funeral. "To the world, she was their Chandni... the actor par excellence... their Sridevi... but to me she was my love, my friend, mother to my girls, my partner... To our daughters, she was everything... their life. She was the axis around which our family ran... If you need to talk of Sri, let it be of special memories that connect each of you to her," he posted on her Twitter account.
Janhvi is all set for her Bollywood debut Dhadak opposite Ishaan Khatter and the family will most likely miss the Chandni star the most at the time of the film's release. Asked about Sridevi's absence, Boney further told the tabloid, "We miss her every moment. Even as I talk to you I feel that emptiness in my life that she has left behind. I am trying to be both mother and father to my children."
Sridevi was recently honoured at Cannes Film Festival, Academy Awards and the National Film Awards were she was also conferred with the Best Actress award for her performance in Mom.
Follow @htshowbiz for more