Randhir Kapoor reveals why RK Studio had to be sold: No actor comes here to shoot anymore
Aug 29, 2018 10:46 AM IST
Randhir Kapoor spoke about RK Studio sale and how the Kapoor family is letting it go with a heavy heart.
Randhir Kapoor has joined brother Rishi Kapoor and daughter Kareena Kapoor Khan to talk about the sale of iconic RK Studio, owned by their family, and how it is an "emotional loss" for all of them. Talking to Quint, Randhir Kapoor described the sale of RK Studio has left the family sad but it was not viable anymore for them to set up a new studio. "With the state of the roads and traffic today, no actor comes to Chembur to shoot in this studio. They would rather go to Film City. So, with a very heavy heart, we have decided to let it go. My whole family is very sad, but there's no other way," he said.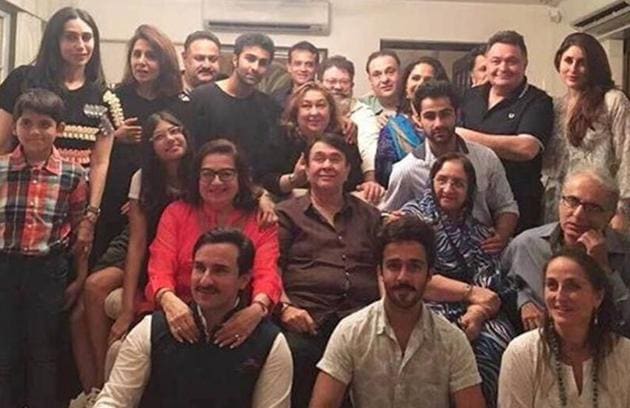 He added that after the 2017 fire that gutted the studio, they had no choice but to dismantle the studio. "It's even more an emotional loss than monetary loss. We have lost the entire memorabilia of Raj Kapoor. Whatever Raj Kapoor had built has been burnt down," he told the website.
RK Studios went up for sale after it was gutted in a massive fire last year. Actor Rishi Kapoor told Mumbai Mirror that the family took the decision to sell the property collectively. "For a while, we did juggle with the idea of renovating the place with state-of-the-art technology. However, in reality it isn't always possible for a phoenix to rise from the ashes. We Kapoors are very emotional lot but then… The investment in rebuilding the studio would just not have yielded sufficient revenue to keep it going. Believe me, we had to take the larger picture into account and take a level-headed decision. Even before the fire, for years R. K. Studio had become a huge white elephant, toting up losses. The few bookings we would get from films, TV serials and ad shoots would expect free parking space, air-conditioning and discounts," he told the daily.
The blaze gutted one of the main shooting venues -- the set of dance reality TV show Super Dancer Season 2, but the shooting was not underway. RK Films has produced films such as Barsaat (1949), Awaara (1951), Boot Polish (1954), Shri 420 (1955) and Jaagte Raho (1956).
However, the Kapoors finally have something to cheer up as their beloved RK Studios was finally put up on sale. The new owners of a property that once belonged to legendary actor and producer Raj Kapoor, have commissioned a large structure, a part of which will pay tribute to the actor and his life's works.
According to a report in Mumbai Mirror, the property in Loni Kalbhor, Pune that was once the Kapoor family farmhouse, will soon boast of a large dome that will have statues of acclaimed world leaders. "We were building this peace monument as a tribute to India and to show her solidarity towards world peace. I recently found out that it has grown to become the world's largest dome, even bigger than St. Peter's Basilica in Rome. It will also have the world's largest peace library with the rarest of books. We are unveiling it on October 2 with a world peace conference," said Vishwanath Karad, the educationist responsible for the constructions.
Karad adds that the actor's house on the property will be left untouched. "The area is called Vishwarajbaug and the home, Raj Kapoor Bungalow. We also constructed a monument with the statues of Kapoor from his best films, and a seven-Pagoda tribute showcasing his best works," he said.
Follow @htshowbiz for more