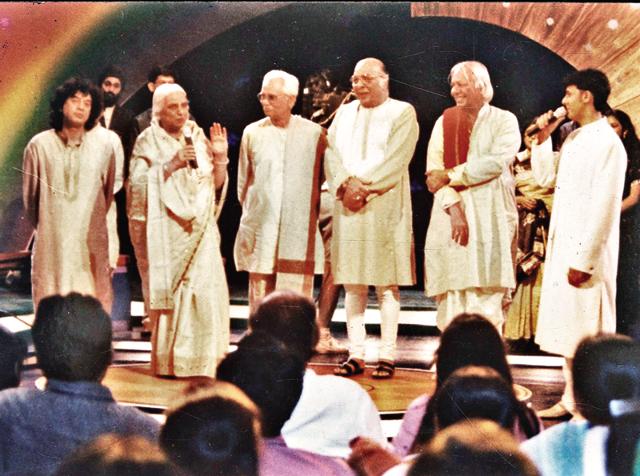 "We weren't pressured to play gimmicks to boost TRPs," says Sonu Nigam
Sonu Nigam hosted the first episode of Sa Re Ga Ma in the summer of 1995. Within months, he became a popular music talent show anchor.
UPDATED ON JAN 09, 2016 08:09 PM IST
It couldn't have been easy hosting India's first musical talent show at 21?
It wasn't. When legends of the stature of Hariprasad Chaurasia, Zakir Hussain, Shivkumar Sharma, Girija Devi, OP Nayyar, Anil Biswas and Khayyam Saheb are on the stage, the anchor has to be particular about introducing each of them with respect. He has to make sure the others don't feel slighted. We didn't have tele-prompters. So, I had to think on my feet.
People still remember your style of anchoring music shows.
My parents had brought me up in a certain way. Both of them were not just singers but genuine music lovers and purists who appreciated people like Lataji, Ashaji, Rafi saheb and Kishore Kumar. My mother was always concerned about whether my talaffuz was correct and whether I was addressing my seniors within a certain tehzeeb. Thanks to them, the decorum required to host a show with such sanctity came naturally to me.
How do today's music talent shows compare with Sa Re Ga Ma?
Talent shows these days choose the contestants' backstories before they even hear them sing. In my time, we were never concerned about their family backgrounds – whether the singer's father was a rickshaw-puller or a banker. Our concern was whether the contestant could sing well. But being the first show in that genre, we were not pressured by the marketing department to play gimmicks to boost TRPs. These days, the channel tells you to do certain things to spice things up. In those days, we had a free hand.
I won't mind brilliant minds giving their suggestions to an anchor. But you must never forget who is sitting in front of you. If I am a composer and there is a new girl who has come as a contestant, I can give her some suggestions and tips. But if I have Lata Mangeshkar sitting in front of me, can I dare give her a suggestion?
What are your memories of working with Gajendra Singh, the brain behind many such music talent hunts?
We worked as collaborators. It wasn't a force-fit since fundamentally, Gajju and I had similar aesthetics that were rooted in Indian culture. Both of us we were not trying to prove a point by being sensational. I was also involved at the writing and conceptual stages, apart from designing some of the rounds of the competition. Our effort was to ensure that every guest on the show was accorded equal respect and the contestants who left the show went back having learned something.
From HT Brunch, January 10, 2016
Follow us on twitter.com/HTBrunch
Connect with us on facebook.com/hindustantimesbrunch
Close