Nirmala Sitharaman dons bright red saree with temple border for Budget 2023
Feb 01, 2023 10:02 AM IST
Budget 2023: Finance minister Nirmala Sitharaman wore a bright red saree with black border – with intricate golden work.
Union minister Nirmala Sitharaman chose a bright red saree with a black border for her 5th Budget on Wednesday. This is also the last full budget before the 2024 Lok Sabha election. The finance minister's love for handloom saree is nothing new, but her choice of attire on the Budget day always remains a subject of interest for experts looking for any hint about the overall mood of the budget from the colour she chooses to wear.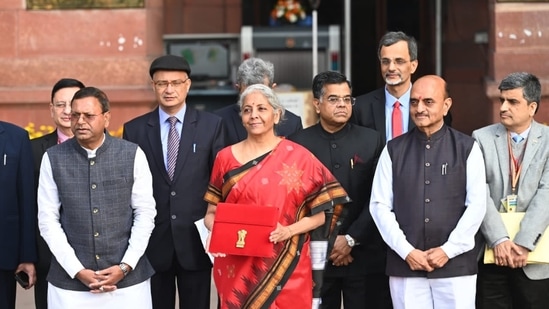 Generally, the finance minister goes for bright colours on Budget day. Last year, she chose a mellowed colour for a change, as she wore a rusty, maroon handloom.
Temple sarees are usually made of cotton, silk or a mix and worn for special occasions. Her choice of a bright red colour makes people hopeful of a bold and positive Budget 2023.
Budget 2023: Income Tax slab LIVE updates
In 2021, Nirmala Sitharaman wore a red and off-white silk Pochampally saree with an ikat pattern.
In 2020, the Budget day attire was a yellow silk saree with a blue border.
Sitharaman's debut budget was in a pink Mangalgiri silk saree with a golden border.
Apart from her choice of saree in which she always remained 'vocal for local', the finance minister in 2019 ditched the leather briefcase and embraced the traditional bahi khata which following the pandemic got replaced by a digital device. This year too, the finance minister will present the budget with the digital device.
Ahead of the Budget 2023 presentation on Wednesday, Nirmala Sitharaman visited the finance ministry and then met President Droupadi Murmu at the Rashtrapati Bhavan. Following the Union Cabinet meeting, the minister will present Budget 2023 at 11am.