Barricades, cops keep Chhath devotees away from polluted Yamuna, BJP MP wants his way
The BJP MP, Parvesh Verma, who poured water at the Yamuna ghat, wanted to know why the Delhi government was stopping Chhath devotees to celebrate the festival at the bank.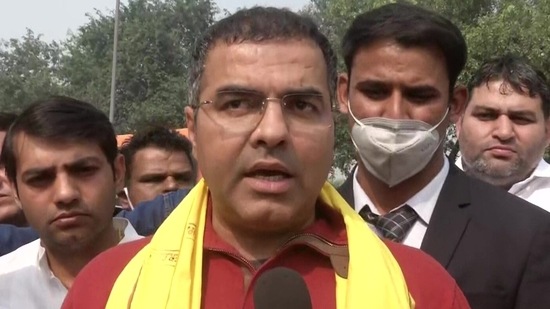 Updated on Nov 10, 2021 01:21 PM IST
Parvesh Sahib Singh Verma, the West Delhi MP of the Bharatiya Janata Party (BJP) on Wednesday entered a ghat of the polluted Yamuna river at ITO in Delhi despite barricades in place to stop Chhath puja devotees from taking dips and performing rituals in the frothy water.
Personnel of the Delhi Police were seen also dispersing devotees from Yamuna banks due to the restrictions in place.
Verma who poured water at the Yamuna ghat, also known as Chhath Puja ghat for being one of the oldest banks of the river for Chhath rituals, wanted to know why the Arvind Kejriwal-led Delhi government was stopping devotees to celebrate the festival at the bank.
He said the Municipal Corporation of Delhi and the Delhi Development Authority had, however, given their nod to go ahead with the Chhath celebrations. The BJP MP also asked devotees to come to the ghat and promised to take care of their safety.
Also read | Toxic foam: Boats, sprinklers at work as devotees take a dip in polluted Yamuna
"The MCD, DDA have given permission to celebrate Chhath... Why is the Delhi government not permitting to celebrate Chhath at ITO, which is the oldest ghat in Delhi. Why are we being stopped? I urge everyone to come here, we will look after their safety," the MP was quoted as saying by news agency ANI.
On Monday, he had vowed to set up a 'ghat' at the place and take part in celebrations on the main day of Chhath festivities. He also said that while Kejriwal-led Aam Aadmi Party came to power with the votes of people from Purvanchal, the CM was now refusing to allow them to celebrate their festival.
Also read | BJP MPs visit Yamuna river ghats to assess Chhath Puja arrangements
A major political slugfest was underway in the national capital over Chhath celebrations in the toxic foam-filled Yamuna. While the AAP has blamed BJP-led governments in neighbouring Haryana and Uttar Pradesh for the crisis, the saffron camp has slammed the Kejriwal government for not doing enough and failing devotees.
Close Story