'Will return after repeal process goes through in Parliament'
Nov 20, 2021 10:00 AM IST
Several protesters said that the events of the past year fuelled anger and mistrust against the Centre and BJP.
Hours after Prime Minister Narendra Modi announced a repeal of the three contentious farm laws breaking a year-long impasse and asked protesting farmers to return to their homes, demonstrators at the three borders across Delhi exhibited mistrust against the promise and said they would not leave the protest spots unless the laws were repealed in the Parliament.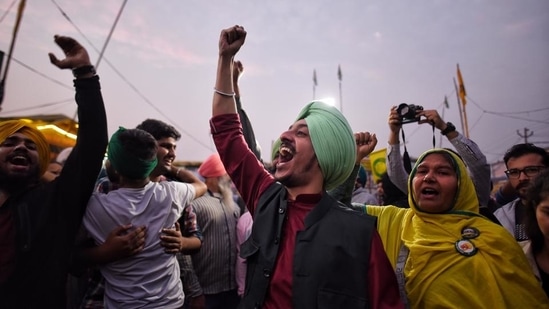 Sukhbir Singh, 43, a farmer from Moga district of Punjab who has been on the Singhu border since November 26 last year, said the mistrust stems from the fact that the government had gone back on its promises several times.
Stay tuned with breaking news on HT Channel on Facebook.
Join Now
"Be it implementation of the Swaminathan report or other matters, the government is known to sway from one side to another. We welcome the announcement but this is only a half-victory. We will wait till the laws are repealed on paper and other demands of the farmers are met including removal of all fabricated cases against us," he said
A similar sentiment was shared by farmers at Tikri and Ghazipur borders. Yubraj Singh, 62, a farmer from Moosa village in Mansa district said celebrations could wait. "We want to wait for this announcement to be acted upon. Along with the farm laws, there are other laws around electricity bills and stubble burning which have provisions such as a fine of ₹1 crore and a five-year jail term for stubble burning. We want to wait and see the government's stand on these issues while they work on the repeal," Singh said.
Gurpreet Singh, 25, a farmer from Harchowal village in Gurdaspur district in Punjab, said that despite the announcement of repeal, the move would not benefit the Bharatiya Janata Party electorally in Punjab in the Assembly election next year. Singh and his family had voted for the party in the last Lok Sabha election.
"Sustaining the agitation took money and lives of our people. For instance, every ten days, our village had to spend ₹40,000 just for diesel to make one round trip to the protest spot. Nearly 700 farmers died during the movement. Though we won, it came at a heavy cost. No one from our village will vote for BJP in the upcoming elections as their arrogance forced us to protest and pushed our state's economy back by several years," he said.
His friend Naib Singh, a member of Kisan Mazdoor Sangathan in Gurdaspur, however, said the government was not eyeing Punjab Assembly elections. "The decision has nothing to do with elections in Punjab or the protesting farmers because the government knew that they will not garner votes in Punjab. That was never an option. But through us, they want to win the upcoming Uttar Pradesh election that is crucial for this regime."
Several protesters said that the events of the past year also fuelled the anger and mistrust against the Centre and BJP. "It takes a toll to travel back and forth every two weeks for one whole year," said Gurdeep Singh, a computer engineer from Kurukshetra in Haryana who came to the protest site for three days in December last year but decided to stay throughout these months. "People have been demanding repeal of laws since September last year and protesters have been attacked and vilified in various ways across different states. We have been killed and mowed down. All those will not be forgotten," he said.
With the harvest season underway, many agitating farmers have returned home to either work on the field or celebrate Gur Purab – the festival marking the birth anniversary of Guru Nanak Dev – with their families in their home states of Punjab, Haryana, and Uttar Pradesh. While the protest sites had fewer than the usual number of protesters in the initial days, those present at Singhu, Ghazipur, and Tikri on Friday engaged in celebrations by distributing sweets and holding tractor rallies. They also held kirtan earlier in the day.
The lack of crowds also sparked concerns among many over possible face-off with authorities or mischievous elements. The Samyukta Kisan Morcha, an umbrella body of 40 farmer groups, also said that it is mobilizing farmers from several states to mark the first anniversary of farmer agitation on November 26.
"We all know what this government is capable of. You saw what happened on January 26; how farmers were vilified and how the narrative was turned against us. We do not want history to repeat and will mobilise more supporters. More people will start coming in by evening (Friday)," said Prakash Singh, a farmer from Moradabad at Ghazipur.
(With inputs from Soumya Pillai and Paras Singh)