'Guess the conversation': Fadnavis tweets metro ride pic with PM Modi, CM Shinde
Jan 20, 2023 11:31 AM IST
Fadnavis took to twitter to share a picture of the metro ride where PM Modi, CM Eknath Shinde and deputy CM Devendra Fadnavis are seen laughing while engaged in a conversation.
Prime minister Narendra Modi on Thursday inaugurated two new Metro lines - 2A and 7 - in Mumbai. He also travelled on the Metro between the city's Gundavali and Mogra stations with Maharashtra chief minister Eknath Shinde and deputy chief minister Devendra Fadnavis.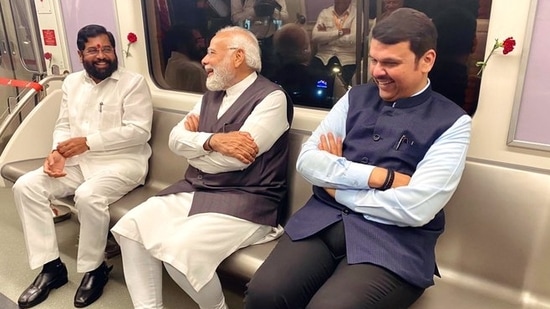 Fadnavis later tweeted a cryptic photo of the three of them together (and sharing a laugh) with the caption: "Guess the conversation."
Earlier Modi waved to crowds at the Gundavali station before boarding the train. During the ride, he also interacted with young men and women, and metro rail workers.
The 18.6 km 2A Yellow line service connects Dahisar East and DN Nagar in Andheri West. The 7 line links Andheri East to Dahisar East and is around 16.5 km long.
The foundation stone of the 2A and 7 Mumbai Metro lines were laid in 2015 by the prime minister; they have been constructed at a cost of around ₹12,600 crore.
In addition to inaugurating these lines the prime minister also laid foundation stones for other projects - worth ₹38,000 crore - during his one-day visit to Mumbai.