PM Modi inaugurates 2 new metro lines in Mumbai; corridor stretches from Andheri to Dahisar
ANI | | Posted by Lingamgunta Nirmitha Rao
Jan 19, 2023 07:42 PM IST
The foundation stone of these lines was also laid by the Prime Minister in 2015 and these Metro Trains are Made in India.
Prime Minister Narendra Modi on Thursday inaugurated two new Mumbai metro lines 2A and 7, a 35-km long elevated corridor stretching from Andheri to Dahisar, constructed at the cost of around ₹12,600 crore.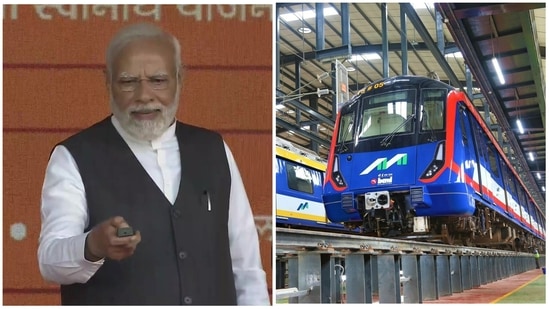 The Prime Minister also launched various development projects in Mumbai.
Also Read | 'Yes, development slowed down when...': PM Modi's dig at MVA in Mumbai; praise for Shinde-Fadnavis duo
According to the Prime Minister's Office, the metro line 2A connecting Dahisar E and DN Nagar (yellow line) is around 18.6 Km long, while metro line 7 connecting Andheri E - Dahisar E (red line) is around 16.5 Km long.
The foundation stone of these lines was also laid by the Prime Minister in 2015. These Metro Trains are Made in India.
Governor Bhagat Singh Koshyari, Chief Minister Eknath Shinde, Deputy Chief Minister Devendra Fadnavis and others were present at the event.
He also launched MUMBAI 1 Mobile App and National Common Mobility Card (Mumbai 1).
Watch | PM Modi plays traditional drum during rally in Karnataka's Kalaburagi
The app will facilitate ease of travel, can be shown on the entry gates of Metro Stations and supports digital payment to buy tickets through UPI.
The National Common Mobility Card (Mumbai 1) will initially be used in metro corridors and can be extended to other modes of mass public transit including local trains and buses as well.
Commuters will not need to carry multiple cards or cash; the NCMC card will enable quick, contactless, digital transactions, thereby easing the process with a seamless experience.
Prime Minister lay the foundation stone of seven sewage treatment plants, which will be built at a cost of around ₹17,200 crores.
The PMO said that these sewage treatment plants will be set up in Malad, Bhandup, Versova, Ghatkopar, Bandra, Dharavi and Worli. They will have a combined capacity of around 2,460 MLD.
In an effort to strengthen health care infrastructure in Mumbai, Prime Minister will inaugurate 20 Hinduhridaysamrat Balasaheb Thackeray Aapla Dawakhana.
"This novel initiative provides essential medical services like health checkups, medicines, investigations and diagnostics completely free, to the people. Prime Minister will also lay the foundation stone for redevelopment of three hospitals in Mumbai viz. 360-bedded Bhandup Multispeciality Municipal Hospital, 306-bedded Siddharth Nagar Hospital, Goregaon (West) and 152-bedded Oshiwara Maternity Home. This will benefit lakhs of residents of the city and will deliver top class medical facilities to them," the PMO said in a statement.
PM Modi started the road concretisation project for around 400 Km roads of in Mumbai.
This project will be developed at a cost of about ₹6,100 crore. Of the total roads extending to around 2050 Km in Mumbai, more than 1200 Km of roads are either concretized or are in the process of being concretized.
However, the remaining roads of about 850 Km in length face challenges of potholes which severely impact transportation. The road concretisation project is aimed to overcome this challenge. These concrete roads will ensure fast travel along with enhanced security, while also providing better drainage facilities and utility ducts will ensure regular digging of roads is avoided.
He also lay the foundation stone for the redevelopment of Chhatrapati Shivaji Maharaj Terminus
The redevelopment is planned with a view to decongest the southern heritage node of the terminus, augmentation of facilities, better multi-modal integration and to conserve and restore the world-famous iconic structure to its past glory.
The project will be done at a cost of over Rs. 1,800 crores. Further, Prime Minister will also start the transfer of approved loans of over one lakh beneficiaries under PM SVANidhi Yojana will also be started.