Yogi Adityanath launches Covid-19 medical kits for Covid-19 symptomatic children
Published on Jun 15, 2021 02:30 PM IST
A team of doctors will supervise the administration of doses as well as distribution of the medical kits among the children in all 75 districts of the state..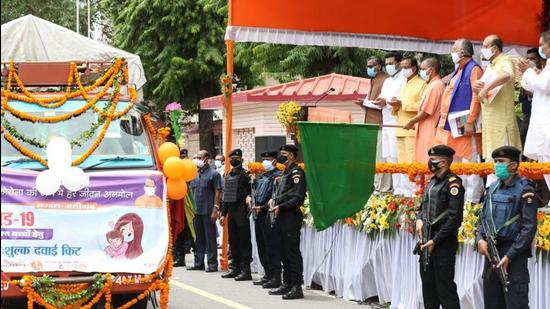 Uttar Pradesh chief minister Yogi Aditynath on Tuesday flagged off vehicles carrying medical kits to be distributed among children with Covid -19 symptoms across the state. In a special drive aimed to protect children in various age groups from the pandemic, the state government will distribute 50 lakh medical kits through village surveillance committees, said an official release.
State health and family welfare department's additional chief secretary Amit Mohan Prasad said the medical kits contain paracetamol tablets, ORS packets, multi – vitamins and Ivermectin tablets to be administered to symptomatic children in the interim, till their samples are tested for coronavirus following their admission to a health care facility if found positive. Medicines supplied in the kits can also be used to treat seasonal fever, he said.
"The kit has been prepared based on the suggestions given by medical experts and paediatricians," Prasad said.
UP Medical Supply Corporation Limited has prepared separate kits for four age groups: Infants (0-1 year), 1-5 years, 5-12 years and 12-18 years. Infants and children up to 5 years will only be given drops, syrups and liquid medicines. The kits do not contain any antibiotics, which will only be given at the primary health centers on producing a doctor's prescription, said Prasad.
In the first phase, the vehicles flagged off by the CM will transport 17 lakh medical kits to 75 districts, and later, 33 lakh medical kits will be transported to warehouses set up in various districts for further distribution as per need basis, he added.
In all the 75 districts, a team of doctors under the chairmanship of the district's chief medical officer (CMO) will supervise the administration of doses as well as distribution of the medical kits among the children. Frontline health workers including- Accredited Social Health Activist (Asha), Auxiliary Nursing Midwives (ANM) and Anganwadi workers will visit each household to collect details of sick children and distribute medicines.
"The district health department will send a rapid response team to collect samples of children with Covid-19 symptoms. Those found positive will be admitted to the nearby primary or community health centres for treatment," Prasad added.
He said that the state government has also planned to set up 100 beds in paediatric intensive care units in each district hospital and state-run medical college in preparation to shield children from a possible third wave of the pandemic. The department will also set up 25 beds neonatal intensive care units in each district hospital and medical college, he added.