Mulund to get muddy water for over a month, thanks to BMC's laxity
Feb 03, 2023 01:01 AM IST
The water to Mumbai and suburbs comes from the Bhandup water treatment plant (WTP), which runs through a water tunnel underground passing through Thane. An illegal borewell dug in Thane has damaged the tunnel, stated the civic body's note
Mumbai: Two weeks ago, when citizens from a part of Mulund were alerted by the Brihanmumbai Municipal Corporation (BMC) to boil their drinking water from January 20, "until further notice" they were unaware that the timeline of the caution was likely to be protracted, extending well over a month.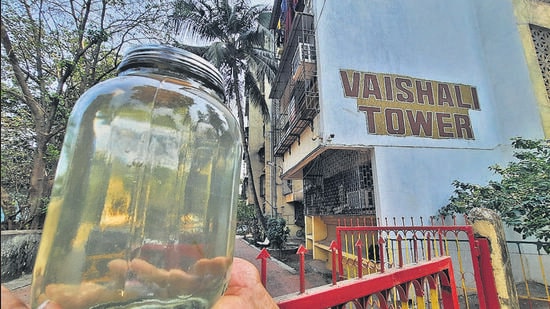 The water to Mumbai and suburbs comes from the Bhandup water treatment plant (WTP), which runs through a water tunnel underground passing through Thane. An illegal borewell dug in Thane has damaged the tunnel, stated the civic body's note. To ensure that the water from its source in Gundavali reaches the WTP, as a stopgap the civic body is using the pipeline which used to supply filtered water to Mulund. This has led to unfiltered water coming to the households. BMC is yet to appoint a contractor to fix the leak in the 5500 mm tunnel.
Over 15,000 households in Mulund West have been receiving muddy water from the BMC since the last two weeks and they may have to stick to the boil-and-consume routine or realign their household budget to procure bottled water for over a month from now – the time required to repair the damage.
P Velrasu, additional municipal commissioner (Projects), said, "We are in the process of appointing a contractor and it will take a month to repair the deep tunnel, as it is required to be isolated for repairs. The department is monitoring the quality of water continuously by taking samples from different areas. We have noticed that it is improving gradually."
However, residents from various parts of the suburb said that their tanks are now filled with mud, and dirty water was in their kitchens as well as bathrooms.
Residents who do not have an RO water purifier are forced to buy drinking water. Vasant Bhanushali, a member of Mumbai North Central district Forum (MNCDF) and resident of Mulund West said, "We are buying 20 litres of packaged water to drink every day. This is not the solution. We have reached out to BMC through twitter as well as in-person. But they only respond with 'we will look into it'. It is shocking to know that this will take another month to be set right. BMC needs to appoint a contractor immediately – why were they waiting for 15 days?" Murali Nair, a resident at Vaishali Tower, concurred with Bhanushali. His family has been buying water for the last two weeks.
Many affected have taken to social media to register their grievance and shared pictures of muddy water to illustrate the gravity of the situation. They have tagged the T-Ward, asking office bearers to act. The neighbourhoods affected in the suburb are: Veena Nagar, Vaishali Nagar, Swapna Nagari, Yogi Hills and Tambe Nagar Check Naka, in Mulund West, and Kisan Nagar in Thane city.
Topics