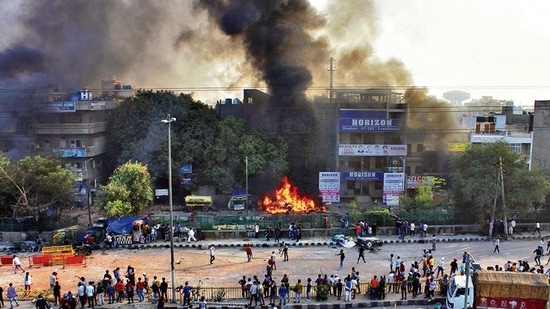 Bail for Delhi riots accused: Friends and family call it a victory for democracy
The three student activists were booked under the Unlawful Activities (Prevention) Act (UAPA) for allegedly instigating the February 2020 riots in north-east Delhi
UPDATED ON JUN 16, 2021 04:19 AM IST
Family members and friends of student activists Devangana Kalita, Natasha Narwal, and Asif Iqbal Tanha, who was granted bail by the Delhi high court on Tuesday in the Delhi riots case, described the order as a "big victory for democracy" and said their faith in the judiciary has been "restored".
The three student activists were booked under the Unlawful Activities (Prevention) Act (UAPA) for allegedly instigating the February 2020 riots in north-east Delhi which broke out in the backdrop of protests against and in support of the Citizenship Amendment Act, which left 53 people dead and more than 400 injured.
Both Narwal and Kalita, members of women collective Pinjra Tod, were arrested on May 29 last year on the charges of allegedly hatching a conspiracy along with the other co-accused to orchestrate the riots. Tanha was arrested in May 2020 for allegedly being part of a "premeditated conspiracy" behind the riots.
While Devangana and Natasha are MPhil students at Jawaharlal Nehru University (JNU), Tanha is pursuing BA (Hons) in Persian from Jamia Millia Islamia.
A bench of justices Siddharth Mridul and Anup J Bhambhani, while granting bail to Kalita, said, "We are constrained to say, that it appears, that in its anxiety to suppress dissent and in the morbid fear that matters may get out of hand, the State has blurred the line between the constitutionally guaranteed 'right to protest' and 'terrorist activity'. If such blurring gains traction, democracy will be in peril."
Also Read | Right to protest is not a terror act: Delhi high court
Terming the court's order as a "big victory for democracy", Devangana's mother Kalpana Deka Kalita said she had mentally prepared herself for "a long battle".
"It was a big shock for us when she was arrested last year and charged under the UAPA. When I read about the UAPA, we started preparing ourselves and Devanagana for a long battle. There were instances when we would get really worried about her, but she has shown exceptional strength and courage. We knew that she was not guilty since the very beginning. She was just protesting. We are so happy that this has been proved in the court today. It's a big victory for truth and democracy," Kalpana said over a phone call from Dibrugarh in Assam, adding she will soon visit Devangana in Delhi.
Even as the three student activists were granted bail by the court, they were not released from the jail on Tuesday due to some pending paperwork, said their family members and friends.
Natasha's younger brother, Akash Narwal said if had bail order came a month earlier, she could have spent some time with her father who recently passed away after contracting Covid-19. "I am really grateful that the court has issued such a strong order. It is a victory for democracy. But it is just tragic that it did not come a month early. It's still difficult to process that she could not speak to him or meet him one last time. This was the first thing that came to my mind, when I got to know about the court's order."
Tanha's mother Jahan Ara, who is currently in Jharkhand, said her faith in the judiciary has been restored after the high court order on Tuesday. "It has been a tough year for the entire family. There has not been a day when I was not worried about his safety and well-being in jail. My son is a normal student who wants to study and do something good in life. He was falsely implicated in the case, and I am so glad that the court has acknowledged it. I will soon leave for Delhi. I can't wait to give him a hug," she said.
Pinjra Tod, the outfit to which both Devangana and Natasha are associated with, also issued a statement welcoming the court's decision. "We look back at this past year of struggle and what it has a cost — the loss of freedom for Devangana and Natasha and the trials and tribulations of their friends, family, and comrades. We remain inspired by the sheer strength that they and so many others have shown in the face of vicious criminalisation and the onslaught of the state, we send our regards to their family members running from pillar to post to prove their innocence. We reiterate our demand for the release of all political prisoners and the dropping of fabricated conspiracy charges," they said.
Several other student groups, including AISA and Students' Islamic Organisation of India (SIO), also issued statements welcoming the court's order and demanding the release of other student activists who are currently in jail and charged under the UAPA.
The Delhi Police have decided to challenge the high court order.
"We are not satisfied with the interpretation of the provisions of UAPA by the high court in a matter concerned with grant of bail. We are proceeding with filing of a special leave petition before the Supreme Court," said DCP Chinmoy Biswal, spokesperson, Delhi Police.
Topics
Close