Indian woman's mysterious death in Britain: Why doesn't anyone care?
Dec 27, 2016 08:04 AM IST
Dozens of women from Britain have been taken to the Indian subcontinent and just "disappeared". Both the Indian and British authorities tend to ignore such cases
The last time Seeta Kaur's family saw her in India was in a glass coffin. They had just arrived from Britain and were immediately suspicious because the body was fully wrapped up in blankets. Her sister had to fight and push people out of the way to reach the lifeless body and take off the blankets.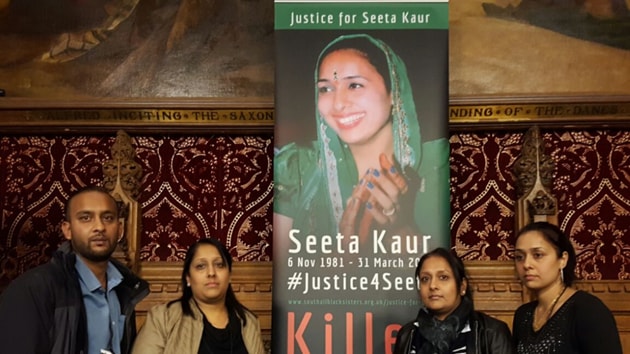 "I pulled off the blanket off her face and saw scratch-marks," her sister Swinder Kaur told me. "I saw bruises across her neck and her chest. I turned around and told her husband's family - 'you have killed my sister. You strangled her.' You can't get those scratch-marks otherwise. I was devastated."
A day earlier, on March 31, 2015, Seeta parents in Britain had been told their daughter had suddenly died of a heart attack. She had been a healthy 33-year-old woman with no such problems. They didn't believe it. The entire family flew to New Delhi and arrived the next day in Kurukshetra, Haryana, where her husband lived.
They asked to take her body back to Britain for a post-mortem. He agreed. But the next morning the body was gone. She had apparently been cremated overnight without her family's consent.
The tragic story of how Seeta Kaur, a young woman from east London who married a man from north India and died in mysterious circumstances, is still largely untold. It is coming to light now only after a campaign was launched last week by the London-based women's group Southall Black Sisters. Over the last year Seeta's family have tried their best to get justice for their daughter and got nowhere. They are despondent and angry.
Read: Key changes sought in UK domestic workers visa regulations
The tragedy of the story lies not just in what happened to Seeta but the callous attitude of the British and Indian authorities to her death. This is about romance blooming across countries, but turning sour over cultural differences. But most importantly, this story is about how a loophole in the law is used to put women in danger.
By the age of 23, Seeta Kaur ran her own little salon in East London as a beautician. She worked hard, her family say, and always put others ahead of herself. Her parents introduced her to Pawan, who was from a family in India, for marriage a decade ago. They hit it off and the marriage was arranged. He moved to the UK.
The problems started when she had her first child, a boy. Her husband had promised to give one of their sons to his brother without telling his wife. Seeta refused to give up her child and tensions grew. Then she had a daughter. Her childless brother-in-law didn't want the girl, they only wanted a boy. Then Seeta had twins, a boy and a girl, and the pressure became intense. She started to become depressed.
Her sister says she was beaten for not doing her husband's bidding, but did not relent. So they tricked her into going to India. Pawan told Seeta his mother was seriously ill and wanted to see the children. "It was a lie," her sister says. In February 2015 the family went to India. Seeta never came back. Neither have her children.
The Indian police have been of no help at all. They won't even investigate the husband's family, instead asking her family to "reconcile" with him. More shockingly, UK authorities won't act either. Neither the Foreign Office nor London police have asked what happened to their citizen. Pragna Patel from Southall Black Sisters says they are "washing their hands off it" by claiming it's the family's responsibility to ensure action is taken, not theirs.
Campaigners say that because the police is more lax there, dozens of women from Britain have been taken to the Indian subcontinent and just "disappeared". And British authorities can ignore such cases.
Read:20,000 NRIs will come to Punjab to help AAP in polls
In 2007, the husband and mother-in-law of Surjit Kaur Athwal were convicted for murdering her in Punjab and dumping her body in the river Ravi. A few years later, Manjit Kaur Kullar also died in Punjab under "suspicious" circumstances. She had also suffered domestic violence.
Samia Shahid was another such victim. It was initially reported in July this year she had died of natural causes in Pakistan. But pressure from the family and British MPs forced the Pakistani police to investigate further. Her father and ex-husband were found responsible for her murder.
Pragna Patel says the Indian police should "hang their heads in shame" because the Pakistani police showed themselves "more willing to investigate such crimes against women".
A society that pretends to put women on a pedestal but treats them as disposable is in denial about its own values. Seeta Kaur wasn't just murdered because she refused to give up her son, when women are still treated as inadequate if they can't give birth to one. She was murdered because she was seen as disposable, and because people knew the police would look the other way. This is a damning indictment not just of the authorities but what our society has become.
Her family deserve justice because the story of Seeta is one of countless other women. The authorities owe it to women in Britain. They owe it to the women of India.