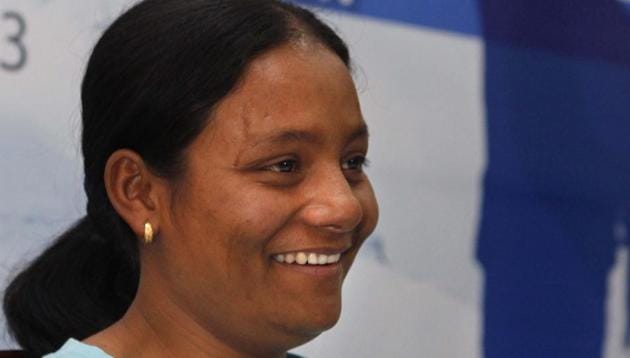 Women achievers open paths to achieve what was perceived as impossible
Among the dozen women extraordinary women awarded for transforming India is an amputee mountaineer, an acid attack survivor, an educator and India's first blade runner
UPDATED ON SEP 08, 2017 05:48 PM IST
Before she left her village to catch a flight to Delhi, Sunita Kamble's grandmother had some advice for her: Don't talk to strangers, follow instructions and, above all, don't wave your hand out of the window.
Nobody in Kamble's family had ever seen the inside of an airplane. But Kamble was flying, to Delhi to be recognised as one of 12 'women transforming India', an award given jointly by Niti Aayog, MyGov and the United Nations.
As India's first woman goat doctor in drought-prone Mhasvad, Maharashtra, Kamble artificially inseminates goats to create a hybrid breed that can be an alternative source of livelihood.
Among the 12, some are already recognised for their remarkable work – Laxmi, survived a horrific acid attack, took her fight to the Supreme Court and won. Safeena Husain's Educate Girls has put 2 lakh girls in school in rural, remote and tribal areas. Arunima Sinha lost a leg and became the first female amputee to scale Mount Everest.
Subasini Mistry, a tiny woman with a mighty heart, swore she'd build a hospital after her husband died because he couldn't afford treatment. For 20 years she sold vegetables, did manual labour and domestic work, saving enough to buy some land in her husband's village. Additional funds came from the community, three doctors agreed to volunteer and what began as a one-room clinic is now a 45-bed hospital where major procedures cost Rs 5,000.
Why should we know these stories? It's not just to recognise individual triumph, but also to learn and be inspired. These women tell us that heroism is not dead. They were wonderful role models to a new generation of young women. They provide an alternative narrative to the cynicism and sensational news stories that we've come to expect.
Is it possible to break out of poverty, escape an abusive marriage and create a micro-enterprise network that provides livelihoods to 3,000 women? Kamal Kumbhar of Maharashtra did it.
Is it possible to stand up to the forest mafia and save forest land? Jamuna Tudu aka 'Lady Tarzan' of East Singhbhum, Jharkhand did it.
Her son's epilepsy motivated Rajlakshmi Borthakur to devise a smart glove that can predict seizures before they happen. Cancer survivor Kanika Tekriwal set up India's first marketplace for chartered jets. Kiran Kanojia is India's 'first female blade runner. And when kids couldn't make it to school in her village in Meghalaya, Shima Modak took education to their doorstep.
These stories open a path to possibility. "When you're the first woman to do something, there is a lot of pressure to do it well," said Harshini Kanhekar, India's first woman fire-fighter said. "But nothing is impossible."
These women are proof that nothing is.
Namita Bhandare writes on social issues and gender
The views expressed are personal
Close