England's Jos Buttler explains 'vulgar' message spotted on his bat handle in 2nd Test vs Pakistan
Hindustan Times, Mumbai |
HT Correspondent
Jun 05, 2018 01:04 PM IST
Jos Buttler said that keeping the words 'F*** it' on his bat something that helps him stay calm and put things in perspective.
England wicketkeeper-batsman Jos Buttler has explained writing that infamous message on the top of his bat handles that has landed him in trouble with the International Cricket Council (ICC).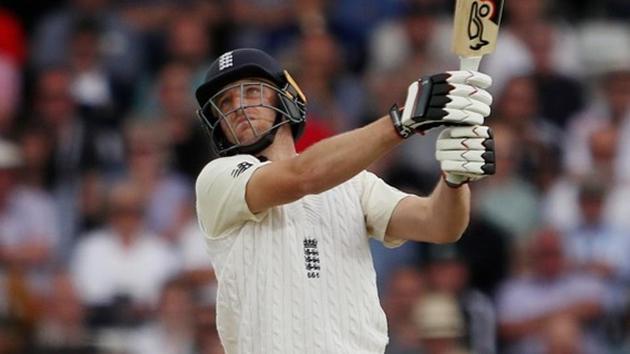 Buttler returned to the England Test side in a surprise selection move which paid rich dividends with the right-handed batsman scoring a match-winning 80 not out in the second innings at Leeds to help his team draw level with Pakistan.
However, it was during a drinks break when cameras panned towards Buttler's bat that was left alongside his England helmet, with the top of the handle inscribed with words 'F*** it'.
Revealing that he puts the same message at the exact spot on all his bat handles, Buttler said it is something that keeps him put things in perspective.
READ | 'F*** it' - Jos Buttler writes bizarre message on bat handle during Pakistan Test
"I think it's just something that reminds me of what my best mindset is – when I'm playing cricket, and probably in life as well. It puts cricket in perspective. When you nick off, does it really matter? It's just a good reminder when I'm in the middle, when I'm questioning myself, and it brings me back to a good place," Buttler was quoted as saying by cricket.com.au.
The ICC, whose laws prohibit cricketers from carrying any specific messages on their clothing or equipment unless approved, might take action on Buttler.
"Players and team officials shall not be permitted to wear, display or otherwise convey messages through arm bands or other items affixed to clothing or equipment unless approved in advance by both the player or team official's board and the ICC Cricket Operations Department ... the ICC shall have the final say in determining whether any such message is approved," the ICC rule says.
READ | IPL 2018 stint key to my success for England vs Pakistan: Jos Buttler
For the ICC to take action on Buttler, the process has to be first initiated by match umpires, followed by a decision by the match referee Jeff Crowe.
On his part, Buttler says he wants to make most of the experience he has gained so far. "If anything my mentality has been quite similar to my first few Tests; not worrying about external factors, just trying to play the game, trusting myself," he said.
"The big difference is experience. I used to think you could either do it or you can't. But now I understand how valuable experience is, and maturity, to help you to deal with not only the on-field stuff but what goes on around it," he added.