India cricket team will not play bilateral series with Pakistan: Vijay Goel
Updated on May 29, 2017 04:04 PM IST
Indian cricket team and Pakistan will lock horns in the upcoming ICC Champions Trophy in UK but will not engage in a bilateral series, said sports minister Vijay Goel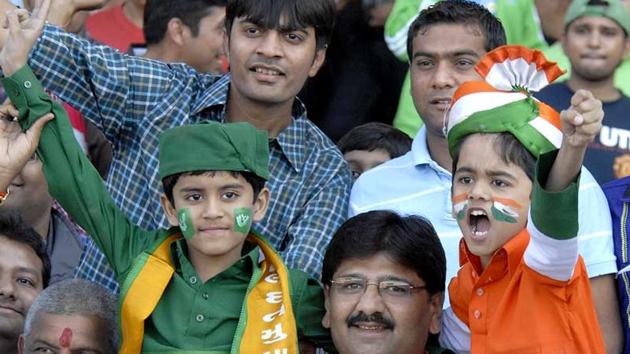 Sports minister Vijay Goel has ruled out a bilateral cricket series between India and Pakistan. Speaking to reporters in New Delhi on Monday, the minister said "cricket and terrorism can't go hand-in-hand."
India and Pakistan, however, will play each other in the ICC Champions Trophy in UK next month. Both teams are in the same group and clash at Edgbaston, Birmingham on June 4.
Board of Control for Cricket in India and Pakistan Cricket Board officials are scheduled to meet in Dubai today to discuss a bilateral series, but Goel's message to BCCI is very clear.
According to the ICC Future Tours Programme, the Indian cricket team is scheduled to play Pakistan in a bilateral series later this year but hostilities from across the border are likely to scupper any chance of an India vs Paklistan cricket series.
BCCI and PCB had signed a Memorandum of Understanding (MoU) to play six bilateral series between 2015 and 2023. Earlier this month, the PCB had sent a notice of dispute to the Indian board, claiming losses for the BCCI's refusal to tour in 2015.
In Dubai's meeting, BCCI acting secretary Amitabh Choudhary will represent BCCI while PCB is expected to be represented by its chairman Shaharyar Khan and legal representatives.
BCCI HELPLESS
"We still remain committed to playing, but the position doesn't change: the series cannot go ahead without the permission of the government of India.
"After PCB wrote to us, we have written to the government of India again, and are awaiting the response. I believe the dialogue should go on, which is why we are meeting," Choudhary said.
The sports minister's comments today make it amply clear that bilateral cricket is unlikely in the near future, not even on neutral territory.
The last bilateral series between India and Pakistan was played in 2012-13. It was a limited overs series featuring two T20Is and three ODIs in India. The T20 series was drawn and Pakistan won the ODIs 2-1.
Personalise your news feed. Follow trending topics