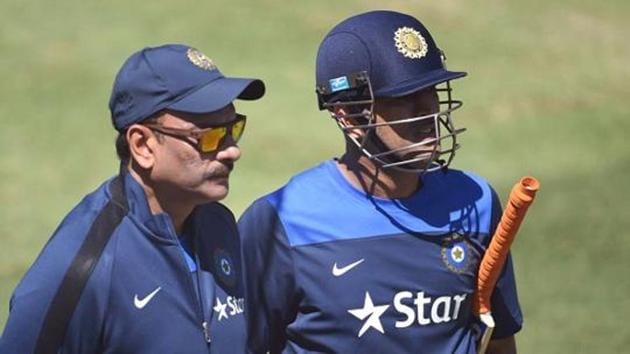 MS Dhoni target of 'jealous' people who want him out of India cricket team: Ravi Shastri
Ravi Shastri has come to the rescue of MS Dhoni, the former captain whose position in the Indian cricket team is under a scanner after struggling in the Rajkot Twenty20 International against New Zealand.
UPDATED ON NOV 10, 2017 10:55 AM IST
In recent times, two former Indian captains and a top-notch all-rounder have questioned MS Dhoni's utility in the Indian cricket team. As the debate over Dhoni gathers steam, two of the most important persons in Indian cricket, captain Virat Kohli and head coach Ravi Shastri, have come to the rescue of the under-scanner 2011 World Cup-winning skipper.
An aggressive Shastri has hit back at Dhoni's critics like Sourav Ganguly, Virender Sehwag and Ajit Agarkar, telling a vernacular daily: "Looks like there are a lot of jealous people around, who just want MS Dhoni to have a couple of bad days. But the Indian team knows who Mahendra Singh Dhoni is and what he means to the team. There are a few people who are waiting to see the end of MS Dhoni, but great players like him decide their own future," Shastri was quoted as saying to Anandabazar Patrika
On Tuesday, after India squeezed out a series win against New Zealand in Thiruvananthapuram, Kohli had swatted questions on Dhoni's value in the team, saying, "He understands his game, he understands his role, but it doesn't come off every time … he doesn't score in one game and we are after his life.
"I think people need to be a bit more patient. He's a guy who understands various cricketers. He's a very smart guy. He understands where he stands with his body, with his game. So I don't think anyone else has the right to decide that for him."
Unlike Australia or England, where performance takes precedence over emotions in matter of team selection, Indians are sentimental by nature. Past often governs the present and several Indian cricketers have taken great advantage of this sub-continental syndrome.
Till he decided to retire in November, 2013 in Mumbai, Sachin Tendulkar had not scored a century after January 2011 in Cape Town. In his last 20 innings starting January 2012, Tendulkar scored three fifties, including a 74 in his final innings against a weak West Indies attack. To even think of dropping Tendulkar was considered sacrilege.
The Indian think tank is clearly willing to give MS Dhoni a long rope. Not quite the finisher that he was, Dhoni's strike-rate has shown a downward trend. With competition around him, MS Dhoni's safety-first approach in high-risk T20s is understandable. Unlike Kohli-Shastri though, the selectors may not be so kind.
Dhoni will be watched closely in the upcoming home series against Sri Lanka. The 36-year-old can easily reclaim lost ground in the three ODIs and three T20s against the woefully out-of-form Lankans. Unless he falls sick or gets injured, Dhoni has a permanent seat in the playing XI.
"In our mind we know where Dhoni stands. He is an ultimate team-man. He was a leader, a great leader! And now an ultimate team-man," said Ravi Shastri.
Kohli and Shastri will have to have a plan for a man they trust so much. Foremost, they must decide MS Dhoni's batting position and review his role. With talent aplenty and a World Cup to regain in less than two years' time, India simply can't afford to be at sixes or seven with one of its most decorated cricketers.
Close