Mithali Raj body shamed - Indian cricket captain hooks nasty tweet for a six!
Mithali Raj's response to a tweet that apparently tried to shame her has won praise. Mithali had led India to the final of the ICC Women's Cricket World Cup in England in July.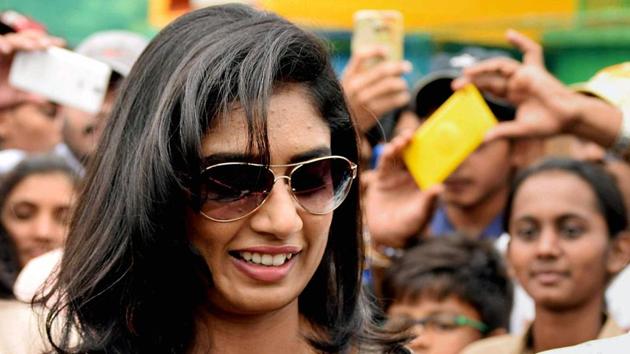 Updated on Aug 22, 2017 06:07 PM IST
Mithali Raj had won a number of hearts after she led India to the ICC Women's Cricket World Cup finals for the second time in England in July. And although she couldn't help them lift a maiden title; Mithali ensured that everyone looks up to women's cricket with the same amount of respect as they do to the men's.
However, there are a certain few, who always fail to see the positivity around and applaud for the right reasons. During the Women's Cricket World Cup, a journalist had asked Mithali Raj who her favourite cricketer was. However, instead of a name, all that the scribe got in return was whether the question would also be asked to a male cricketer.
Her reply had not just shut down the scribe but also won adulations across social media for quashing the inappropriate question in a classy manner.
On Sunday, she had to do the same yet again; albeit this time it was an user on Twitter she had to shut up.
Posting a picture with fellow cricketers Veda Krishnamurthy, Mamatha Maben and Nooshin Al Khadeer, Raj had written: "What a momentous day today was, standing with these special women!! @MabenMaben @AlNooshin @vedakmurthy08".
They were at an inaugurating a cricket centre in Bengaluru and it seemed to be a lovely moment until a certain Twitterati, who uses the handle @ashimdchoudhary stated that she was sweating (at her armpit) while posing for the photo.
"I m where I m because I sweated it out on d field! I see no reason 2 b ashamed f it, when I'm on d ground inaugurating a cricket academy," she stated.
Not only did the user receive his fair share of abuses and criticism from Mithali Raj's fans, the skipper herself intervened to reply, yet in her typical classy fashion.
No doubt Mithali Raj is the latest Captain Cool of Indian cricket.
Close Story