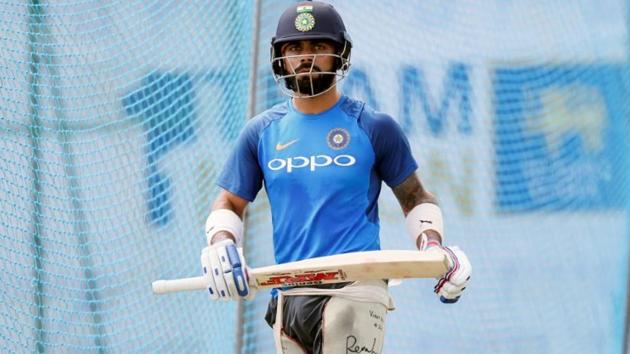 Virat Kohli will benefit from county stint, says Gary Kirsten
Virat Kohli will be playing for Surrey county cricket club in June to prepare for a full fledged tour of England beginning in July.
Hindustan Times, Pune | By Ashish Phadnis
UPDATED ON MAY 05, 2018 10:16 AM IST
Former India coach Gary Kirsten feels Virat Kohli's decision to have a county stint ahead of the England tour will help him prepare for the gruelling two-month long tour.
The India skipper has opted to play for Surrey in June across all formats in a bid to acclimatise to English conditions ahead of a tour that comprises five Tests, three one-dayers and three T20 Internationals.
"Playing domestic cricket season in UK is a great opportunity and every player in the world aspires to play there. If Kohli is playing the season ahead of the tour, it's going to be helpful for him to familiarise with the conditions and will be helpful for the Indian team too," said the former South Africa opening batsman.
Kohli had a poor outing on the last tour of England, in 2014, and averaged a measly 13.5 in the five-Test series.
He will miss the one-off Test against Afghanistan that begins on June 14.
READ | Virat Kohli to get only nominal wages, no fat contract for Surrey deal
Kirsten, who coached India from 2007 to 2011, was hopeful of India putting up a good performance in England.
"I haven't watched the Indian team's performance lately, but India have always been a strong team with so many strong players. So I don't have any doubts about their performance on the tour of England," he said on the sidelines of the launch of his academy here on Friday.
He, however, did say that the series against England will be challenging for India. "Test cricket has always been dear to the England team and they take it very seriously. However, since the last World Cup, they have done great work on their ODI team and are now ranked No. 1. So it's going to be a challenging series.
"It would be unfair to compare the current Indian team with the World Cup-winning team of 2011 as I haven't been closely watching this team's performance. However, what I have observed is that every year a few talented youngsters come up and use IPL as a platform to get used to high intensity games. Whether they (go on to) play for India in the next World Cup or not, you don't know but there is now a wider pool available to the selectors," he added.
READ | IPL 2018: Ashwin says Jasprit Bumrah made the difference for Mumbai Indians
Kirsten was considered the force behind India's improvement ahead of the 2011 World Cup. Former India captain MS Dhoni had described him as the best thing to have happened to Indian cricket. When asked if he is interested in coaching again, he said, "I have moved on in my coaching career. I have done international coaching for five years and now I enjoy the franchise-based coaching more. Most importantly, I want to spend more time with my academy. I am quite excited with the new plans and I need time for that."
Kirsten also welcomed Cricket Australia's decision to appoint Justin Langer as the new coach.
"He is a great coach and has done well with the domestic teams. For Australia, this is quite an interesting time. I feel it's important to have strong international teams and keep the integrity of the game intact," said Kirsten.
Talking about South Africa's chances in the upcoming World Cup, he said, "The team needs individuals who can stand firm during pressure situations especially during quarter-finals or semis. I feel a bit of luck played against us in the last World Cup. If it wouldn't have rained, the picture would have been different against New Zealand."
Close