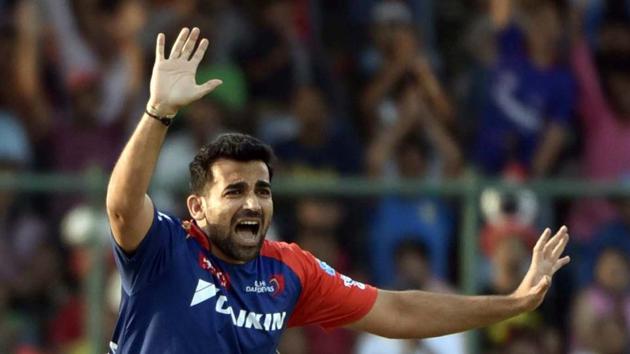 Zaheer Khan, Delhi Daredevils skipper, ready for fire-and-ice routine
Zaheer Khan, who has not played any competitive game since the 2016 IPL, is excited to return for Delhi Daredevils in the 10th edition of the tournament.
UPDATED ON APR 01, 2017 10:17 AM IST
It will be the second year in succession that Zaheer Khan will lead Delhi Daredevils. For starters, the left-arm pacer hasn't rolled his arm over in any competitive game since the last IPL, and has only sat in studios sharing his expertise on fast bowling.
But it is his acumen and ability to nurture pacers that influenced Delhi's decision to hand over the reins to him, without taking his wavering fitness into consideration.
Last year, it was Zaheer's intelligent bowling and tips to bowlers from mid-on that saw Delhi climb the charts in the first half of the IPL. But he had to rest for a couple of games to stay injury free and Daredevils eventually slid to finish sixth.
Read | Virat Kohli costlier than Shah Rukh Khan, Aamir Khan, Ranbir Kapoor. This is how
On Friday, the 38-year-old looked fit and eager to take up the challenge again, though, by his own admission, the next few weeks will test him.
"Very difficult to not play any match and turn up here and play all season. I take it up as a challenge. I have my routines and I stick to that along with discussions with trainers and physios which have gone on through my career.
"I pick the ball around December, and get into it slowly. Here I am ready to take on another season of IPL. Very confident as well as excited. It has been a long time. Get back to the field and the excitement comes back. It's like a perfect dose of cricket for me in my career."
The later stages of Zaheer's India career were blighted by injuries. While he lost pace, it was his nagging line and control that helped sustain his career. Last season with DD, he bowled well with the new and old ball, and even picked a few important wickets. But his best came as captain when he set innovative fields to get opposition batsmen out.
This time too, he prefers to steer from behind, letting the express pacers take the lead as Pat Cummins, Kagiso Rabada, Chris Morris and Mohammed Shami are available. "I have supreme pacers with me who are going to take the pressure off me, so that I play the supporting role and not the lead anymore," laughs Zaheer.
Close