Chief Secretary 'assault' case: Delhi deputy CM Manish Sisodia questioned for three hours
May 25, 2018 11:49 PM IST
Delhi Police said Sisodia was cooperating but he avoided answering many questions
Delhi deputy chief minister Manish Sisodia was questioned for around three hours on Friday by a six-member police team that is probing the case of alleged assault on chief secretary Anshu Prakash on February 19. Sisodia's questioning comes a week after chief minister Arvind Kejriwal was questioned in the case by the investigating team.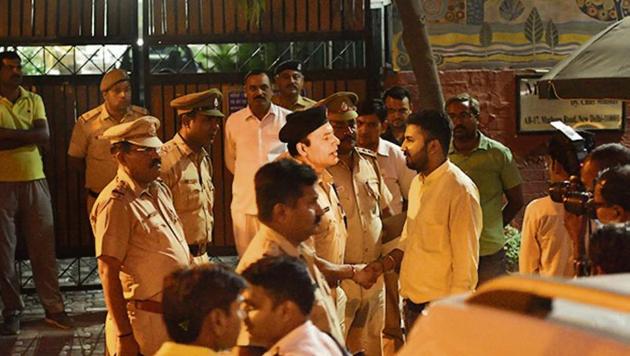 Police said Sisodia was cooperating but he avoided answering many questions. "We asked more than 150 questions. He dodged some of our questions," said Harendra Kumar Singh, additional deputy commissioner of police (north). The police recorded the entire proceedings on camera.
A senior investigating officer said Sisodia's questioning was important because the chief secretary in his complaint had 'accused' him of allegedly intimidating him over phone on the evening of February 19.
"The chief secretary alleged that around 7pm, Sisodia had called him and asked him to clear the files related to advertisement about the achievements of Aam Aadmi Party (AAP) government in Delhi in three years. He alleged that Sisodia had told him if he did not clear the files, he should be ready to come to the chief minister's residence at midnight and discuss the matter," said the officer.
Additional DCP Singh said the allegations of the chief secretary against Sisodia was one of the important issues regarding which the deputy CM had to be questioned.
Asked about Sisodia's reaction on the chief secretary's allegations against him, the investigating officer said, "Sisodia neither denied nor confirmed having called Prakash on the evening of February 19, saying he often called him for one official issue or other. He, however, said he does not remember that day's telephonic conversation."
Sisodia later issued a statement saying he was questioned was done under a 'pleasant ambience'. "The police are not at fault. They are under great pressure to file a fake case (against us). I will cooperate in the probe in future as well. We are confident that like other cases, this case too will be dismissed in the court," Sisodia said.
In his statement, Sisodia accused BJP's Union government and Delhi's lieutenant governor (L-G) for such harassment by the police.