DDA's latest housing scheme set to open this month: 10 things to know
Updated on May 03, 2017 12:29 PM IST
All formalities done, final approval from lieutenant governor for auction of 13,000 flats expected by the end of the month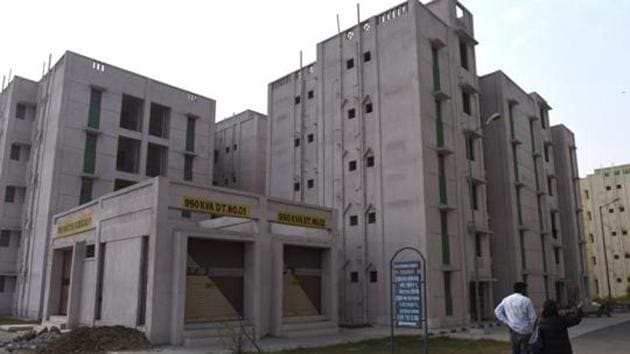 The Delhi Development Authority is set to announce its latest housing scheme offering 13,000 flats.
"The lieutenant governor will likely give the final approval for the scheme in a meeting with DDA officials set for the third or last week of this month," said an official of DDA, the government developer for houses in the national capital city of Delhi.
Here are 10 things to know about the latest scheme:
1.There are 13,000 flats on offer, mostly one-bedroom lower income group (LIG) sets and Janta flats. Only 350 are two-room middle income group (MIG)
2.The registration amount, deposited in the banks before a draw of lots for the allotment, is Rs 1 lakh for one-bedroom LIG and Janta flats, and Rs 2 lakh for MIG and HIG flats
3.Most of these flats – the LIG and Janta homes – are the ones surrendered by people who found them to be too small, or the neighbourhoods underdeveloped
4.After the scheme is announced, probably by the end of the month, buyers will get nearly a month to submit applications, the scrutiny of which would take another month.
5.There will be no restriction on when people can sell these flats, the DDA said, refuting reports that a 5-year sale embargo may be included in the deals
6.But the developer will not refund the registration amounts to people who get an allotment but refuse to buy the flat
7."The agency may start giving possession around September-October by which unfinished civil work and services in the colonies will be completed," the DDA source said
8.The flats are spread across Sarita Vihar and Jasola in south Delhi, Dwarka in southwest, Pitampura and Rohini in northwest, Dilshad Garden in northeast, Paschim Vihar in the west and Mukherjee Nagar in the north
9.The agency was attempting planning to ensure adequate public transport connectivity and other services in the localities, official had said earlier
10.Forms will be available at 99 branches of Bank of Baroda, 48 of Yes Bank, 118 of Axis Bank, 84 of IDBI bank , 50 of Kotak Mahindra Bank, 29 of State Bank of India, 28 of Central Bank of India and 6 of HDFC in Delhi