Delhi kids to join global bunk school protest against climate change
Students aged between 10 and 16 will participate in the strike. At least seven city schools have allowed students to skip school for a few hours for the cause.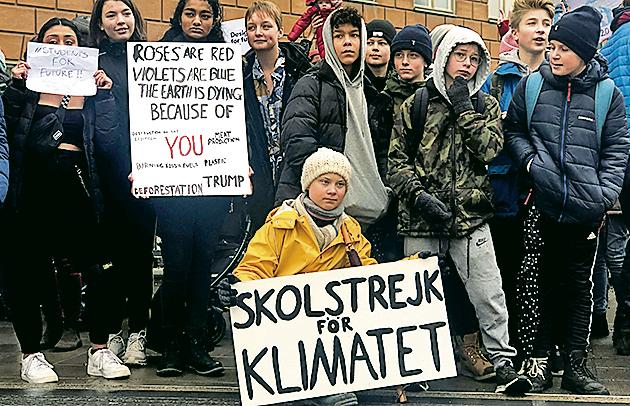 Published on Mar 13, 2019 03:20 AM IST
Eleven-year-old Nitin is busy painting posters with the message 'Fridays for Future', calling upon people to join the Global School Strike against climate change. Over 400 school children from Delhi plan to bunk school and gather at the Central park in Connaught Place on March 15 to strike, demanding their right to breathe.
Students aged between 10 and 16 will participate in the strike. At least seven city schools have allowed students to skip school for a few hours for the cause.
"We must not cut trees and limit the vehicles exhaust, factories and waste burning, as it makes difficult for children to breathe. The government must not allow felling of trees for making buildings, as we will suffer its effects in the future," said Nitin, who goes by his first name, a class 6 student at a Delhi government-run school at INA.
The protest planned this Friday is part of the strike by school kids across the globe as part of the 'Extinction Rebellion' started last year by Greta Thunberg, a 16-year-old girl in Sweden.
In Gurugram, at least 500 primary and high school students from across schools in the city are likely to stage a protest against the government's inaction on climate change at the Wazirabad bundh in Sector 53 on Friday.
Asheer Kandhari, a 15-year-old class 10 student, said scientists say that 12 years from now, the earth will get warmer by 1.5 degrees posing a threat to human survival. The government must listen to the children now and target reducing the city's carbon emissions, he said.
"A number of birds have gone extinct in Delhi and other species too will if we don't act now. Preserving wildlife, green areas must be a priority for the government just like providing jobs and housing," she said.
K Sudha, student welfare director at Bloom Public School, Vasant Vihar, said, "We will send students from class 11 to participate in the strike, as exams for other classes are still on. This is legal bunking and we will set aside one day every month for the movement."
The Intergovernmental Panel on Climate Change's (IPCC) report on global warming published in October 2018 stated that global temperatures will rise by 1.5 degrees between 2030 and 2052, which will have devastating effects of ecosystems. Coastal nations and agricultural economies like India would be the worst affected, the report said.
"The children's movement could be a great advocacy initiative just like in Europe. In India, we are already facing climate extremes. We have less than 15 years to curb emissions," said Chandra Bhushan, deputy director, Centre for Science and Environment (CSE).
Currently, India contributes 5-6% to the global emissions while the largest contributors are the US and China accounting together for 40-45%.
"The children has sought permission from the police to strike. They plan to bunk school one day every month to demonstrate against climate change. The protest will be led by the children who have been preparing for days for the strike, as they would be the worst affected by global warming," said Bhavreen Kandhari, a resident of Defence Colony and member of Delhi Tree SOS.
Close Story
Personalise your news feed. Follow trending topics