DUSU election 2017: NSUI deals ABVP a blow, wins top posts
Updated on Sep 14, 2017 09:12 AM IST
The NSUI had last swept DUSU polls in 2007, and has been on a slide since then, except in 2012 when it won three seats.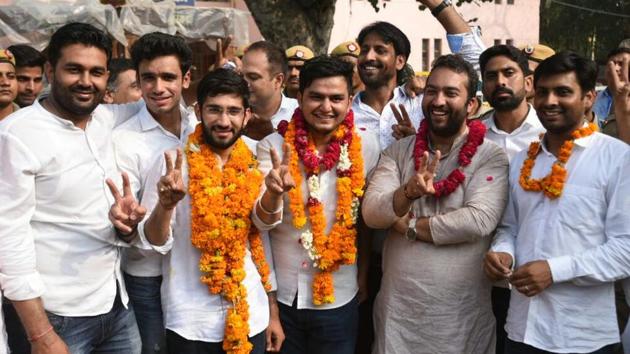 It is two-two for Delhi University's campus rivals in the student union elections but the Congress-backed National Students' Union of India (NSUI) wrested the advantage winning the posts of president and vice president on Wednesday.
The Akhil Bharatiya Vidyarthi Parishad (ABVP) won the posts of secretary and joint secretary in the hotly contested polls. The RSS-affiliated association had three posts in the outgoing panel.
The results signalled a comeback for the NSUI, which held the president's position in the Delhi University Students Union (DUSU) five years ago.
The Congress's student wing had bagged three in 2012 and swept all four posts in 2007.
The results, declared a day after the vote, were marred by controversy as officials announced initially that NSUI won three seats but corrected later that the ABVP took the joint secretary's post.
The NSUI vowed to challenge the outcome for this position in the Delhi high court.
Chief election officer SB Babbar said the NSUI complaint will be forward to the grievance cell.
The new panel comprises Rocky Tuseed and Kunal Sehrawat of the NSUI as president and vice president, and the ABVP's Mahamedhaa Nagar and Uma Shankar as secretary and joint secretary.
The winning margins of Sehrawat and Shankar were 175 and 342 votes in the elections that recorded a 42.8% turnout.
Wednesday's outcome is a morale-booster for the NSUI after the group suffered a humiliating defeat in the Jawaharlal Nehru student union elections on September 8. An umbrella of left-leaning unions swept the polls. The ABVP came second and the NSUI registered less votes than the "none of the above" or Nota option.
Congress leaders Shashi Tharoor and Randeep Surjewala hailed the Delhi University victory as "a triumph of liberal values and wake-up call for Prime Minister Narendra Modi".
Party vice president Rahul Gandhi tweeted: "Congratulations @nsui on a stellar performance & Pres win in DUSU! Thank students of DU for reposing faith in Congress ideology (sic.)."
The Bharatiya Janata Party (BJP) countered that the defeat in the student union elections cannot be an indicator of the party's popularity graph.
Ravinder Gupta, general secretary of the BJP's Delhi unit, said the university elections are not a mandate against the Modi government or the party.
"Student union elections do not decide national politics. I do not find any political reason behind ABVP's defeat in two seats," said Gupta, who was the association's campaign manager.
Delhi unit BJP chief Manoj Tiwari and general secretary Siddharthan held several meetings with students ahead of Tuesday's polls.
"A few thousand students cannot reflect the mood of the city or nation for that matter. The Congress has lost its support, it is a fact. Winning student union elections don't mean the party has made a comeback," Gupta said.