In Delhi's Sangam Vihar, life is sometimes cheaper than water
New Delhi, Hindustan Times |
Anvit Srivastava
Jun 17, 2018 08:14 AM IST
The water crisis in Delhi has made Sangam Vihar a haven for criminals and given birth to gangs whose member do not hesitate even to kill for water.
In south Delhi's Sangam Vihar, life is cheap. Sometimes even cheaper than water.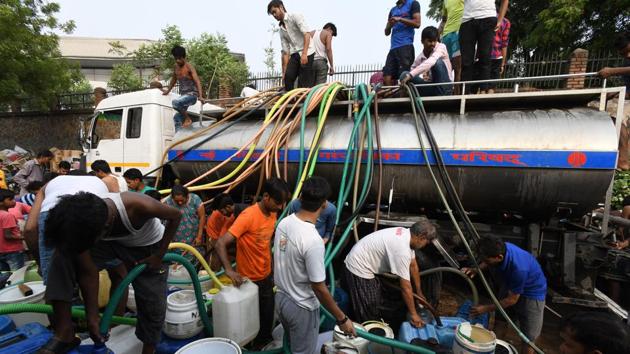 One of the country's largest unauthorised colonies, Sangam Vihar witnessed the murder of a 45-year-old man on Thursday evening over a dispute that broke out over the laying of a piped water connection.
The state government has failed to provide piped drinking water to this south Delhi neighbourhood that houses a population of over 1.5 million residents.
The resultant water crisis has made Sangam Vihar a haven for criminals and given birth to gangs whose member do not hesitate even to kill for water.
According to police files, issues like water, unauthorised construction and betting often escalate into gunbattles in Sangam Vihar. One of the most active gangs of the area, the "Madrassi gang", is involved in a feud with other groups led by Ravi Gangwal and Rohit Choudhry, according to the files. Their turf wars have resulted in the loss of at least a dozen lives in the past six years.
"It is a game of supremacy. In a place like Sangam Vihar, where water is precious, fights have become routine. We have not had a drop of water since the past one week. Under such conditions, who wouldn't fight for water?" said Hazara Begum, a resident of B Block in Sangam Vihar.
Another resident, Mukesh Kumar, said that in the past few years, illegal constructions have changed the topography of the area completely. "This place today has become the largest and most congested colony of the capital. Illegal construction is rampant. Renting a house has become cheap, but basic facilities like water remains a dream. No wonder mafias have taken over water and housing, the two basic needs of locals," said Kumar, who runs a shop in the area.
The area is also dominated by Basiran, a 62-year-old woman and her seven sons, who have been jailed for more than 100 crimes, ranging from bootlegging to robbery and from extortion to murder. Delhi police had recently written to a subdivisional magistrate and the Delhi Jal Board about Basiran's family which, until recently, controlled three government borewells.
Police say many criminal gangs of the area started as water mafia and moved to other crimes.
"The area has some big names such as gangsters Deepak Pandit, Ravi Gangwal and Rohit Chaudhary who dominate the locality and even control distribution of water in their areas. Many water tanker suppliers and groups who control borewells are influenced by these men," said a senior police officer.
Locals believe controlling the water lines is not the only illegal business of these gangs. "Controlling water is just a way of asserting supremacy. These gangs run extortion rackets and are involved in robberies," a police officer said. Deputy commissioner of police (south), Romil Baaniya said that most of the criminal gangs of Sangam Vihar and Ambedkar Nagar have started hiring juveniles and are providing them money and arms.
The officer said that the police continuously keep these gangs and their movements under surveillance.
"Since Sangam Vihar has government borewells, the fight is always over who controls these borewells," he said.
AAP MLA from Sangam Vihar, Dinesh Mohaniya, said the area was largely an unauthorised colony. "Pipelines require permission as it comes under the ridge . Delhi Jal Board has sought permission from the forest department but the matter is stuck as it also requires the Supreme Court's approval," Mohaniya said.
"Exciting news! Hindustan Times is now on WhatsApp Channels
Subscribe today by clicking the link and stay updated with the latest news!"
Click here!