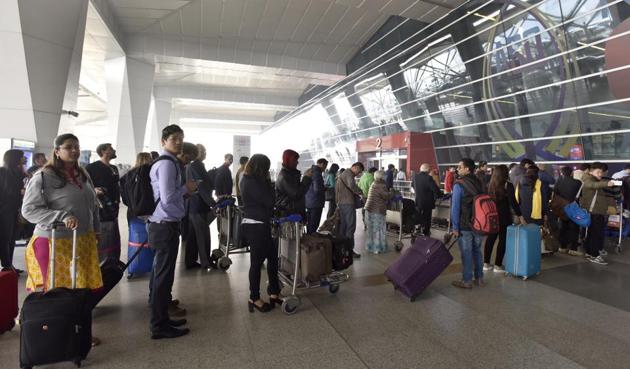 Delhi airport to stamp cabin bag tags again as trial run fails to save time
In a review of airports held on Thursday, it was found that no time could be saved in skipping screening of hand baggage at the Delhi airport due to the congestion at terminals.
UPDATED ON DEC 23, 2016 07:43 AM IST
With Republic Day approaching and no time being saved for commuters even after doing away with stamping of baggage tags, the CISF has ended the one-week trial run at Indira Gandhi International Airport and passengers will have to get the tags stamped again from Friday. However, the move is likely to return post January 26.
Meanwhile, from December 26, the Central Industrial Security Force (CISF) will start the one-week trial run again at seven different airports, which will be followed by similar trials at other airports. "We provide security to 59 airports and have covered seven in the first phase. Before January 26, we want to finish the trial run and after that a complete review will be conducted. We aim to introduce it at all the airports to save passenger's time," the director general of CISF, OP Singh, said.
The next trial run will be conducted at Guwahati, Patna, Lucknow, Jaipur, Nagpur, Trivandrum and Kochi airport. CISF conducted a review on Thursday and while other airports said that passenger's time was said, at Delhi airport due to the congestion at terminals, no time could be saved.
The trial run at Delhi airport ends this week, and will likely be implemented again after January 26, 2017. In the meantime, the Central Industrial Security Force -- the government agency that provides security to airports -- will start a one-week trial run at seven other airports from December 26, 2016.
The trial run was conducted at Delhi, Mumbai, Kolkata, Chennai, Hyderabad, Ahmadabad and Bengaluru airports during which domestic travellers were allowed to fly without putting tags on their cabin bags.
Read | Cabin baggage loses tag but last-minute checks add to wait time
"In Bengaluru, 89% of the passengers appreciated the move, while 11% said that stamp on tag is a sense of security for them. In Delhi, over 2,400 flights were covered and in some cases, during random check at boarding gates, few suspicious items were caught. We need to fill the gap before reintroducing it," Singh added.
During the trial run from December 15-22, security check areas were monitored through CCTV cameras to ensure no passenger skips the mandatory check. CISF staff at the boarding gates has been asked not to check for a baggage tag. The decision was taken after the D-G met representatives of all the airlines last week.
"As per the feedback, stamping causes inconvenience to passengers. Many a times, a passenger is turned away from the boarding gate if the tag gets misplaced," said Singh.
"We are confident that no passenger can escape security check and thus there is no need of stamping. The trial run is for domestic travellers but it will be extended to international travellers also," he said.
Often if a traveller is asked to open a bag after it goes through a scan, others in the queue have to wait till their tags can be stamped. "Now, if one passenger is stopped, others in the queue can move on to the boarding gate after security check. This will benefit the passenger and at no point, security will be compromised," said Singh.
Also read | Not fog, but pilots, airlines to blame for delays, Delhi airport tells DGCA
Close