MCD election: Why Delhi's affluent feel it is not about them
Updated on Apr 20, 2017 10:07 AM IST
Only 43% of the voters from Vasant Vihar turned up to vote during the 2012 MCD elections. In areas such as Greater Kailash, Vasant Kunj, Safdarjung Enclave, and Hauz Khas to the voter turnout was between 37% and 46%.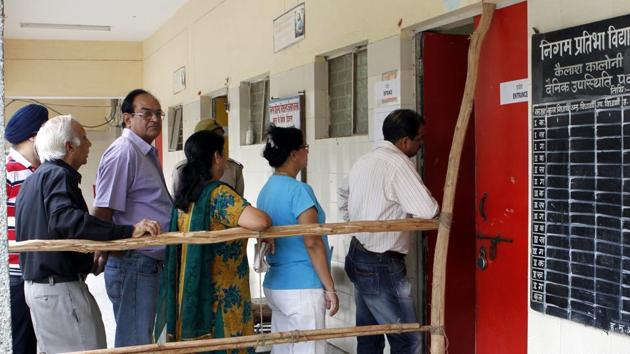 Hindustan Times |
, New Delhi
Vibha Sharma and A Mariyam Alavi
Delhi's heterogeneous fabric is often celebrated for the unique social and cultural mix it offers. On the civic front, however, it poses a huge challenge making Delhi an amalgamation of vastly different microcosms, each with its unique problems and requirements.
A Delhi municipal ward, for example, may comprise affluent urban neighbourhoods as well as underdeveloped villages. Add to this, the low voter turnout in several the posh localities in the MCD elections and the existence of reliable 'vote banks' in the adjoining impoverished areas. It leads to question of reconciling the two ends and deciding which issues will take precedence.
Hindustan Times breaks down some of these problems.
More voters in urban villages
Many urban villages are more densely populated than the adjoining posh colonies. This means while there are tens of thousands of potential voters in urban villages, the planned urban neighbourhoods have a few thousands of votes to spare.
Sarita Vihar ward in south Delhi, which has 70,124 voters, is home to the famous New Friends Colony (NFC) and also less privileged areas like Taimoor Nagar, Haji Colony and Gaffar Manzil. NFC has approximately 5000 voters, just over 6% of the total voters in the ward while Taimoor Nagar, Haji Colony, and Gaffar Manzil, together offer more than double the amount of voters.
"So, people in posh colonies presume that their votes would hardly make any difference. Even during the assembly elections, the total voters from New Friends Colony were 10,000 while voters from neighbouring Taimoor Nagar, Khizrabad and Bharat Nagar areas were approximately 1.20 lakh," said Chitra Jain, an RWA member from New Friends Colony.
"Last time, (Greater Kailash-II) was clubbed together with Chirag Dilli. They said it was done to equalize the areas and bridge the development gap. The councillors were more interested in the village than our neighbourhood. However, at the end of the day, the village area saw no major improvement and our issues were also neglected," said Chetan Sharma, chairman of the federation of GK-II complex Resident Welfare Associations.
Lack of faith in political machinery
Many residents in such high-income areas are plugged in to the who's who of the national capital and in many cases, they do not see the need for a councillor to help "fix" their problems.
Ashutosh Diskhit, president of Citizens Alliance, Alaknanda, stated that most of the people living in affluent areas don't believe in political mechanism. "For them, there are various ways to resolve their issues and approaching the local councillor will be their last option," he said.
"To put it in a simple way, if the roads are damaged in Greater Kailash, then residents will write to the commissioner or deputy commissioner because they know that allocation of funds needs administrative approval. Moreover, they can also take help from the judiciary if they don't get a satisfying response or if their projects get delayed unnecessarily," he explained.
Many of these people don't need to rely on government services either and can afford to hire private service providers. "Fed up of apathetic attitude of the civic agency to collect garbage on a daily basis, we established a system for making compost out of kitchen waste with the help of sponsors. This has reduced the amount of garbage going to dumping site by 50 %. Residents are also contributing money for beautification of their parks," Geeta Bhargava, general secretary, Defence Colony RWA.
The residents of some of the more working class areas, however, find themselves wholly dependent on their councillors to get water supply, or to fix broken roads or the drainage system.
"Even the local representatives are aware of the fact that's why they prefer to have their offices in these areas where people consider them as 'godfather'," said Dikshit.
Low voter turnout
This also means that only a small percentage of voters from such areas turn up to vote. Statistically, though some of the more posh colonies in Delhi enjoy higher per capita incomes and higher literacy rates, their voter turnout, especially during civic body polls, leaves much to be desired.
Only 43% of the voters from Vasant Vihar turned up to vote during the 2012 MCD elections. In areas such as Greater Kailash, Vasant Kunj, Safdarjung Enclave, and Hauz Khas to the voter turnout was between 37% and 46%.
Lack of representation
Not only do residents in these areas not vote, most do not contest elections either. In East Delhi's ward of IP extension, only two out of the six contesting candidates are from IP Extension- BJP candidate Aparna Goel and independent candidate Dharamveer Singh. All the others are from the neighbouring village of Ghazipur.
There are two possible reasons for this. First, many of the residents in affluent areas, already have high paying jobs or lucrative businesses and do not think they have the time to indulge in politics.
"It is a full-time job, where one actually needs to get on streets to address the people's problem starting from overflowing drains and sewer to potholed roads, lifting of garbage and what now. And I don't think everyone would be comfortable doing this in their day-to-day life," said Keswanand, Federation of Group Housing Societies, Indraprastha Extension.
The outgoing councillor of Vasant Kunj is Congress' Om Wati, who is from the neighbouring Masoodpur. Though six out of the contesting candidates in Vasant Kunj this year are from Vasant Kunj itself, some of them like independent candidate Vijay Malik, have strong ties to the neighbouring village. "I grew up in Masoodpur, and have lived in Vasant Kunj for years now. This means I know and understand the problems on both sides," said Malik.
Second, vote bank politics also dictate that the contestants representing major political parties in the municipal wards with such diverse populations are also most of the time from the villages rather than the posh neighbourhood.
"In affluent areas, even if your neighbour knows you very well, there would be little chance that they will come out and vote for you. They have their own priorities. Also outside your posh locality how many people actually knows you that is also a point worth thinking before taking the decision to contest elections," said Akriti Sharma resident of GK II.
Huge disparity in civic issues
Even if a candidate, who understands the problems on both ends of the spectrum, gets elected it could prove difficult to work on issues of both sections' at the same time as they are hugely different.
"While we crib about better security, pavements, beautification of park and market areas, people in our neighbouring areas don't have even basic facilities. So it is quite natural that a councillor or an MLA would give preference to these rural or working class areas," said Naveen Mittal, an RWA member from Civil Lines area.
This dissuades the RWAs of affluent areas to even participate in the town hall meetings called by their councillors or MLAs.
"We had participated in constituency meetings called by MLA Amanatullah Khan and there we felt guilty bringing up our problems. While we were asking for improved sanitation and fogging services in the area during rainy seasons, there were people from Taimoor Nagar and Shaheen Bagh who were complaining about people dying of chikungunya and how there was no fogging done for days," said Chitra Jain, a resident of New Friends Colony.
This, however, does not mean they will stop demanding for their rights and better services. At least 38 residential colonies fall into 'A' and 'B' categories, which pay the maximum property tax. "And people living in these upper-class neighbourhoods find themselves entitled for better civic services even if they don't vote (or contest elections)," said Anil Gautam resident of Vasant Vihar.
Personalise your news feed. Follow trending topics