Ramjas row: Politicians join students, teachers at campus march against ABVP
Updated on Mar 01, 2017 05:06 PM IST
Police register FIR over rape threat to Kashmir martyr's daughter.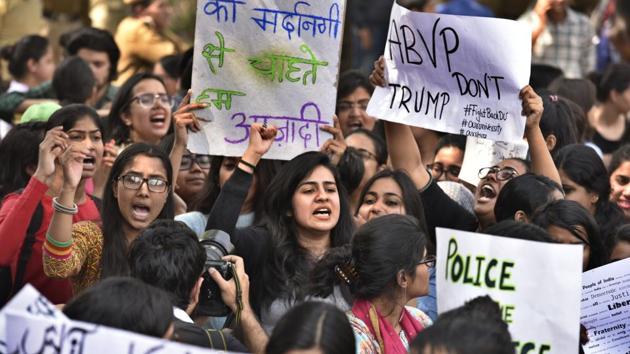 Hindustan Times, New Delhi |
HT Correspondent
Hundreds of students and teachers of the Delhi University hit the streets on Tuesday afternoon to protest against campus violence as more political leaders and sportspeople joined the swirling nationalism row.
A crowd of about 2,000 -- comprising pupils from several DU colleges and other city universities -- marched from SGTB Khalsa College to arts faculty, shouting slogans against the Akhil Bharatiya Vidyarthi Parishad (ABVP) that allegedly thrashed several students last week.
"As a student of DU it was time for me to stand against aggressive culture before it was too late," said Samudra Gogoi, a student of the Delhi School of Economics.
The march was joined by political leaders such as CPI(M)'s Sitaram Yechury, D Raja, Janata Dal (United)'s KC Tyagi and Swaraj Abhiyan's Yogendra Yadav.
Delhi Police lodged a case against unknown persons for alleged rape threats made to Lady Shri Ram College student Gurmehar Kaur, who hit the headlines on Monday for condemning the ABVP in a social media post.
On Twitter, poet Javed Akhtar and grappler Yogeshwar Dutt wrestled it out after the Olympian mocked Gurmehar.
"If a hardly literate player or a wrestler troll a pacifist daughter of a martyr it's understandable but what's wrong with some educated folks," the lyricist tweeted, after Dutt posted a photo mocking Gurmehar.
The wrestler responded minutes later, saying he might not write poems but still made the country proud – a reference to his London 2012 Olympics bronze medal.
Dutt was joined by sisters Geeta and Babita Phogat, who also took potshots at Kaur. "If you speak against nation, people will obviously not like it. Irrespective of gender, the person won't be spared," news agency ANI quoted Geeta as saying.
The current controversy erupted after violence on the streets of DU during a street protest last Wednesday with both sides – the Left-leaning All India Students Association and the ABVP – accusing each other of physical and sexual assault.
Kaur was sucked into the row after one of her older social media posts that read, "Pakistan didn't kill my dad, war did" went viral. Kaur's father Captain Mandeep Singh was killed in a militant ambush in Jammu and Kashmir in 1999.
She pulled out of the march in the morning but continued to hog the headlines. Minister of state for home Kiren Rijiju condemned those threatening her online but maintained that she was misguided.
"Those threatening or abusing her should be identified and punished and the government will ensure security for her," said Rijiju in the evening.
"She is a martyr's daughter. His soul must be weeping that his daughter is being misguided by those who celebrate on the bodies of martyrs."
On Monday, he had hinted left-leaning forces were "polluting" Gurmehar – comments for which Akhtar slammed him. She, however, was backed by Kargil martyr Saurabh Kalia's family.
Politics has dominated the campus discourse over the past week and it was evident in the number of top leaders marching with students on Tuesday – a day after the ABVP took out a "Tiranga march" along roughly the same route.
"They (ABVP) cannot win this with their intellectual skill and want to replace it with violence," Yechury told the students.
Delhi chief minister Arvind Kejriwal also jumped in the fray, meeting lieutenant governor Anil Baijal to press for action against people who threatened Gurmehar and were involved in campus violence.
The Delhi police cyber cell said they registered a case of sexual harassment, criminal intimidation and sending obscene materials.
"Our investigators also had a dialogue with Gurmehar and she was assured that she will be protected," special commissioner of police Dependra Pathak said.
Though Tuesday's march was mostly peaceful, two ABVP members were arrested for allegedly assaulting AISA students. "The two men allegedly started thrashing the AISA students after the march ended. One of them even pulled out his belt. A case under causing hurt has been registered," a police officer said.
The National Human Rights Commission also asked police to file a detailed report on the violence that occurred in the campus last Wednesday.
But while the mood in the DU campus appeared to be against the ABVP, the student group refuted allegations of violence and said they were facing a trial by media.
"DU has been peaceful all these years because ABVP has dominated this campus. But now we are being blamed for the violence when in reality it was the outsiders brought by the left who initiated the violence," said Saket Bahuguna, ABVP national media-coordinator. The group has called for a counter march on March 2.
Close Story
Personalise your news feed. Follow trending topics