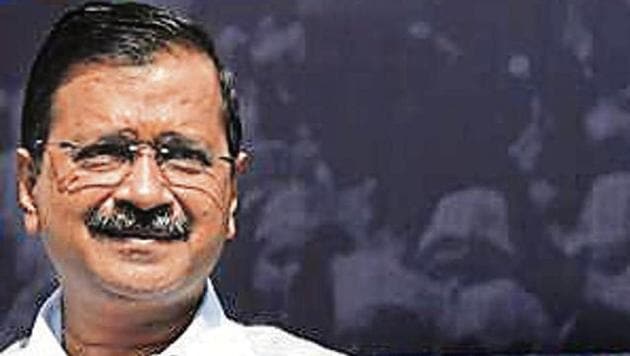 Delhi Assembly Election 2020: Water, power, pollution fight in AAP 'guarantee'
Delhi Assembly Election 2020: Arvind Kejriwal made at least eight new commitments, including deploying 'mohalla marshals' in residential areas, reducing pollution to a third, and making bus rides free for students.
UPDATED ON JAN 20, 2020 12:10 AM IST
Delhi chief minister Arvind Kejriwal on Sunday released a "guarantee card" ahead of the February 8 state assembly polls, promising that the government's flagship schemes — free water, electricity and bus rides — will continue if the Aam Aadmi Party (AAP) is re-elected.
Kejriwal made at least eight new commitments, including deploying 'mohalla marshals' in residential areas, reducing pollution to a third, and making bus rides free for students.
Releasing the "Kejriwal ka guarantee" card, the party chief said these would be distributed in every household in Delhi so that people did not fall for the "lies" that he alleged were being spread by opposition parties. "The opposition is saying many of our schemes will only last till March 31, so this is our guarantee that these schemes will continue for the next five years; 24-hour electricity will continue and 200 units of free power will continue. Free water for those who consume up to 20,000 litres a month will also continue. All schemes of the AAP government will continue," he said.
The chief minister, whose party came to power in the 2015 assembly elections by winning 67 of the 70 constituencies in Delhi, however, clarified that the 10-point guarantee card was not the AAP's manifesto for the assembly polls.
"This is not a manifesto. We will launch a comprehensive manifesto in seven to 10 days. The manifesto will have more things, specifically for students and teachers, among others. This card is Kejriwal's guarantee that no matter what, the promises made in this card will be implemented if the AAP is re-elected," Kejriwal said.
He released the card, which bears his photo and the party's election slogan "Achche beete paanch saal, lagey raho Kejriwal", by signing it. The guarantee card has been made in the form of a table calendar for the year 2020 with the 10 guarantees on one side and the calendar on the other. "The calendar was incorporated into the card so that people keep it in their homes and use it. Had it been in the form of a pamphlet or a normal card, it would have ended up in a garbage bin," said a senior AAP leader at the event.
In the power sector, Kejriwal promised to put an end to overhead electrification in residential areas if voted to power again. "The webs of electrical wires will be history. We will supply power to every household in Delhi only through underground cables," he said.
Eliminating overhead wires and making them underground is an important feature of the Centre's 'Smart City' project which in Delhi is being executed in New Delhi Municipal Council (NDMC) areas. A similar project is being undertaken in Chandni Chowk too.
Apart from providing "world class" education to every Delhi student and free health care in modern hospitals and mohalla clinics, the AAP chief promised to provide in-situ rehabilitation to slum dwellers.
"While development work in unauthorised colonies, including installing CCTV cameras, will continue, we will also provide houses to every slum dweller in Delhi to give them a life of respect and dignity," Kejriwal said.
The AAP, like the Bharatiya Janata Party, had promised the same in its manifesto for the 2015 assembly elections, but no real change has been seen on the ground so far. Ahead of the February 8 polls, both the BJP-ruled Centre and the AAP government have launched parallel projects to rehabilitate slum dwellers at the location of their current residences.
The AAP chief reiterated that he would ensure people got clean drinking water 24x7 and promised that the Yamuna would be so clean by 2025 that he and others could take a dip in it. Kejriwal said he would ensure air pollution was reduced to a third and over 20 million trees/saplings would be planted to make Delhi greener.
For women's security, the party has promised to provide 'mohalla marshals'. "This is similar to our concept of bus marshals. These marshals will be deputed in residential colonies so that women feel safe. This initiative is in addition to our ongoing projects of installing CCTV cameras and removing dark spots by putting up new street lights," Kejriwal said.
For the transport sector, he promised to increase the strength of the bus fleet to 11,000, to augment public transport in the city, and said the Metro network would be expanded beyond 500km. The free bus ride scheme would be extended from women to students as well, party officials said.
The city has 5,989 buses at present, including 806 buses that were added under the cluster scheme.
The BJP said the card released by Kejriwal was a "guarantee of 10 new lies". The party's Delhi unit chief Manoj Tiwari said that by releasing such cards, the AAP government was "admitting" that it could not fulfil its 70 promises made during the 2015 assembly elections.
"Kejriwal has also given a guarantee of removing the web of loose wires but he must explain why this work was not done during the last five years. Had this work been done earlier then the incidents of fire may not have happened. He should also explain to the people why he has deprived the people of Delhi of the benefits of the public welfare schemes of the central government and the Ayushman Bharat Yojna," Tiwari said.
Delhi Congress chief Subhash Chopra, calling the card a "jumla card", said, "The AAP is staring at a defeat in the assembly elections, which is why it has come out with the guarantee card to fool the people of Delhi. It is an attempt to divert attention from the ruling party's failures over the past five years."
Topics
Close