Sanskriti School wins HT-PACE's Inquizitive 2017
Convent of Jesus & Mary (CJM), Bangla Sahib Lane, emerged as the first runner-up and Modern School, Barakhamba Road, was the second runner-up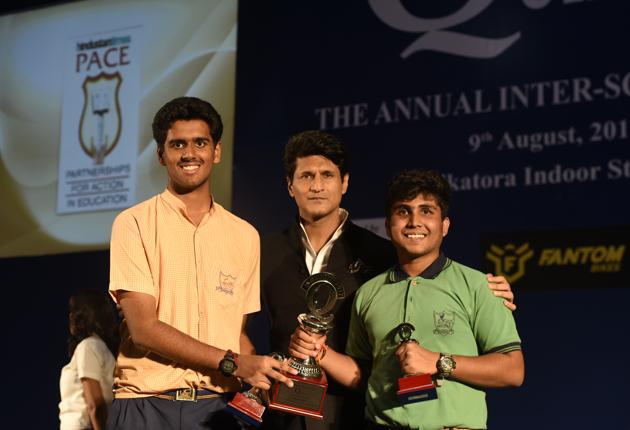 Updated on Aug 11, 2017 11:09 AM IST
Ananya Biswas and Nida Afrin
New Delhi
Aditya Verma and Aryaman Shandilya of Delhi's Sanskriti School have won the 17th edition of Inquizitive, the annual inter-school quiz competition organised by HT-PACE.
Convent of Jesus & Mary (CJM), Bangla Sahib Lane, emerged as the first runner-up and Modern School, Barakhamba Road, was the second runner-up.
The high-octane final of the event on Wednesday at Talkatora Indoor Stadium also featured three other teams — Delhi Public School, Rohini; Springdales School, Dhaula Kuan, and Army Public School, Dhaula Kuan — that qualified the preliminary stage out of a field that comprised 300 schools from Delhi and the National Capital Region.
Sanskriti's Verma and Shandilya credited their win to hard work and consistency.
"I had been reading IAS entrance GK text books six months prior to the event. The buzzer round and the All or Nothing round were the game changers for us," said Verma, who was also an Inquizitive finalist last year.
Vidya Bohra, who also plays tennis, helped the CJM team get the second position after she identified five grand slam winners correctly.
The consolation prize winners were DPS, Rohini, Springdales, Dhaula Kuan, and Army Public School, Dhaula Kuan.
Quizmaster Rajiv Makhni, who hosted the six gruelling rounds, ensured every single member present at the auditorium took an active part in the event in the form of a cheerleader, banner bearer, or as an audience attempting to answer the questions that were passed on.
"I found the finalists this time to be better-rounded. Apart from knowing the textbook stuff, they also had a fair share of knowledge across genres such as pop culture, entertainment and other light beat contents," Makhni said explaining this year's competition was different.
Makhni invited students on stage between the breaks and challenged them in quick bouts of dance and playful fist fights. He also helped the finalists overcome the stress by asking them to dance to drum beats.
The aircraft-shaped poster of Bluebells Model School of Sector 4 in Gurgaon symbolising a buoyant Hindustan Times along with the caption 'Responsibly Raising Standards Through High Connectivity,' won the banner contest.
An Aheer folk dance performance won Mount Abu Public School, Sector 5, Rohini, the best cheerleader award.
Close Story