Teacher's Day special: where learning is the greatest lesson
Ashish Shrivastava has been helping Chhattisgarh authorities improve the quality of education in Naxal-affected Sukma and Dantewada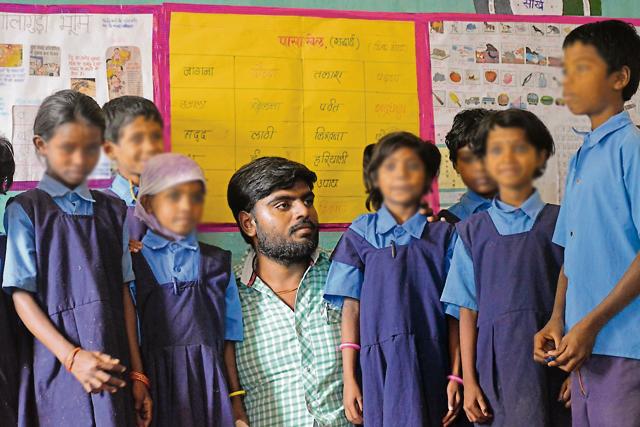 Published on Aug 30, 2016 06:55 PM IST
As a teacher imparting lessons to his students in conflict-ridden Dantewada and Sukma, Chhattisgarh, Ashish Shrivastava has learnt some big lessons in life.
"I learnt a lot from my students. They taught me that there is no such word as 'teach'. The only word that exists in schools is 'learn' and all of us are learners sharing our wisdom and experiences. That has been my key driver. I believe children can be co-creators of the content for learning and co-own their learning journey," says Shrivastava, who has been working in two districts in the tribal and rural areas of Chhattisgarh, the hotbed of left wing extremism.
Through his initiative Shiksharth, Shrivastava works with the local government and tribal community to improve the quality of education in schools with a belief system that communities should take ownership of their own institutions by contributing actively in the learning of its children.
The greatest challenge is working in the Naxal-affected area and mobilising resources to effectively and efficiently deliver. Accessing communities which are hostile to outsiders, access to logistic and technical expertise are some other challenges. Because of the conflict arising due to left wing extremism, thousands of children were forced to drop out after schools in villages were destroyed in Naxal violence.
Talking about what moves him most, Shrivastava says, "We all had a childhood that was peaceful (in most of the cases), fun and full of life. Our work in Sukma has given many surprises but one surprise that has stayed with us has been the hope and zeal towards life that the tribals here have. They have been going through pain, misery and suffering, still they continue to live with a smile. Our team members did a painting exercise with their children. For the first time in school, the children were asked to draw whatever they wanted to draw with nothing to copy from the board. And interestingly, the students drew only two pictures: one of a village fair and other of a combat situation between police/security forces and rebels. Close to 90% students had drawn the latter," says Shrivastava.
This made him realise that he needed to work on the fear and pain hidden deep inside the little ones instead of just working on competency, learning levels and value systems.
"I have worked for over 11 years now with exposure and experience across technology, education, skill development and political activism in companies like Infosys and NIIT. I am an Acumen and Teach For India fellow. We work together in bringing the tribals, teachers and administration on a common platform. We are bridging the gap in academic excellence arising out of language and non-contextual education in rural and tribal areas of India. The governments are ­introducing ICT-based education which is also non-contextual for such students. We are working on designing efficient and ­effective solutions for the government and district education administration to improve the quality of efforts being put in by them," says Shrivastava.
While working on the ­technical aspects and ­developing learning methods for children, Shrivastava and his team have to first create a comfortable trust-based ­environment as the children they teach have to face conflict daily.
"It is important for the children to be proud of their history and culture instead of being intimidated by what the outside world tells them. Thanks to programmes like School Chalein Hum, schools have had decent enrollment. Since the last five years, the government and administration have been struggling to bring the children back to schools and more than that to retain them with consistent high attendance. To do that many initiatives have been started such as community outreach, residential schools, bridge courses etc. As part of Shiksharth, we collaborate with the administration in making schools more children-friendly," he says.
Shrivastava says mothers now want to enrol their children, as young as three to four year old, in residential schools so that they are safe and have a peaceful future.
"My wife and colleague Shalini was involved in one such conversation where a mother was crying because she wanted to get her son enrolled in a residential school. Nothing can be a better example of the pain and concerns of villagers for their children in the conflict zone and their desperation," he says.
Close Story
Personalise your news feed. Follow trending topics