'I pray to God…': Harish Rawat's response to corruption charge by Congress leader
Mar 15, 2022 11:11 PM IST
Harish Rawat's outburst comes after the Congress candidate from Salt seat, Ranjeet Rawat accused him of taking money for ticket distribution in the just-concluded assembly elections.
DEHRADUN: Hurt by the allegations levelled against him that he took money for ticket distribution in the just-concluded assembly elections in the state, senior Congress leader and former Uttarakhand chief minister Harish Rawat on Tuesday said the party should expel him and burn evil in his form on this Holi.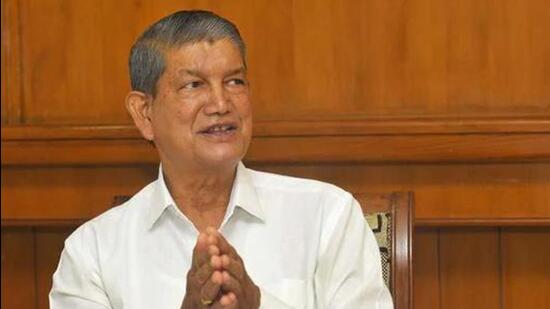 "The allegation of selling posts and party tickets is very serious... I pray to God that Congress party expels me from the party in light of this allegation against me. Holi is a celebration of ending evil…on this Holi Dahan, evil in the form of HarishRawat should also be burnt by the Congress," Rawat said in a Facebook post.
Rawat's outburst comes follows the allegations levelled against him by Ranjeet Rawat, who was denied ticket from Ramnagar and lost elections from Salt seat.
Ranjeet Rawat on Monday alleged that Harish Rawat took money from ticket aspirants and now they are searching for Rawat to get their money back. He also alleged that Harish lies with such innocence that he wanted to contest from Ramnagar in 2017.
Harish Rawat was fielded by the Congress party from Ramnagar assembly seat but his candidature was withdrawn due to opposition from Ranjit Rawat and his supporters after which he was shifted to Lalkuan.
Ranjit Rawat was not given ticket from Ramnagar despite his repeated statements that he has worked in Ramnagar for last five years. He was given ticket from Salt assembly segment, where he lost. He had been preparing ground for a long time in Ramnagar. When Harish Rawat was declared as candidate from Ramnagar, Ranjit Rawat threatened to contest election as an independent candidate. In the wake of resentment and possible rebellion, the party high command withdrew Harish Rawat's name from Ramnagar and fielded Mahendra Singh Pal from Ramnagar and Ranjit Rawat from Salt seat.
With the blame game continues in the Congress, Ganesh Godiyal, the party' state president said, "If anyone has something to say, he should raise the same within the party and not go out and talk about it in the open."
After the Congress' defeat in the assembly polls, there have been direct and indirect attacks on Harish Rawat. In his defence, he has maintained that it was the party's decision that he should contest from Ramnagar and the same was changed later and he was asked to contest from Lalkua.