Arjun Rampal is 'sorry' he had to crop behind-the-scenes picture with Kangana Ranaut from Dhaakad. Here is why
As Arjun Rampal wrapped up his portions from Dhaakad, he shared a lengthy note on Instagram. He also apologised for cropping the first picture he shared, which also featured Kangana Ranaut.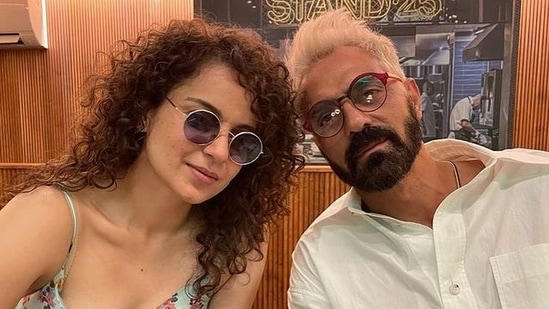 Published on Jul 17, 2021 05:43 PM IST
Arjun Rampal finished shooting for his upcoming action-thriller Dhaakad, which features Kangana Ranaut as a spy. As he shared a bunch of behind-the-scenes photos, he cropped one in which the two of them were seen in their respective get-ups.
Sharing the pictures from Budapest, where Dhaakad is currently being shot, Arjun Rampal said that the experience of shooting for the film has been 'special' for him. "It's a wrap for me on #Dhaakad the feeling of sudden emptiness sinks in, as it does when you finish something that has been so close to you. The team, the crew, the memories I take are special," he said.
Explaining why the first photo in the series, also featuring Kangana Ranaut was cropped from the top, Arjun said, "Sorry had to crop pic with @kanganaranaut from set as her look and mine can't really be revealed yet, it was wonderful working with you. Agni is gonna set the screen on (fire emoji)."
+
Arjun also thanked the rest of his team: "@razylivingtheblues thank you again. @smaklai ty sire. @tetsuonagata love u. @dokkaebi530 @msjoeykim the whole Korean team for the fantastic action. The calmness and care. @sohamrockstrent @deepakmukut @krulz59 for taking such great care of me and my family. The whole team in Budapest, my personal team, the crew from India. The hospitality at Marriott. Till we meet next have an awesome remaining shoot. Love, luck and thank you again. #wrapped #dhaakad #budapest."
Also read | Sonu Nigam opposes 'always praising' contestants on reality shows: 'We aren't here to spoil these kids'
In January, Kangana promised fans that Dhaakad will be a 'world-class spy thriller'. In an earlier statement, she said that the film will be a 'turning point' for Indian cinema, as it is a 'one-of-a-kind female-led action film' being made on a lavish scale. "If it is received well, there will be no looking back for women in Indian cinema," she had said.
Close Story