Karan Johar's twins Yash-Roohi wear matching outfits like him, proud dad reacts 'I will take it as a compliment'. Watch
Dec 11, 2022 09:51 PM IST
Karan Johar's twins Yash Johar and Roohi Johar wore matching outfits in his latest video. Here's how the filmmaker reacted.
Filmmaker Karan Johar posted an adorable video of his kids—Yash and Roohi in matching outfits. He appeared even happier when Yash told him that they are looking like their 'dada.' Karan Johar is a single father to the two kids whom he welcomed via surrogacy. Also read: Karan Johar's son Yash calls himself Badshah in new video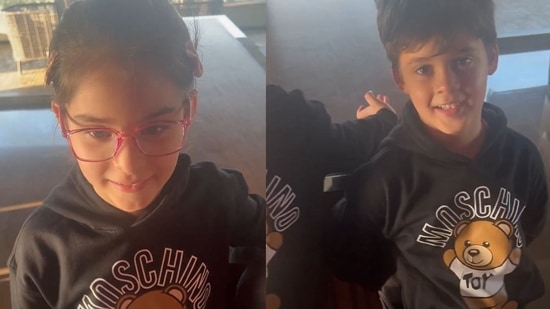 In the latest video, Yash and Roohi wore all-black sweatshirts with matching black joggers. In the beginning of the video, Karan, who recorded them, is heard saying, "Wow. Matching matching matching."
Responding to him, Roohi struggles to pronounce fashionable, to which Karan corrects her. "We are dressing up like dada," added Yash as the two calls their father dada. Proud Karan says, "I take that as a compliment" and signs off with his signature 'toodles.' Roohi also joins him.
Sharing the video, Karan wrote in the caption, "Dressing up like Dada!" Reacting to the adorable banter, actors Anil Kapoor, Bipasha Basu and Maheep Kapoor dropped loved-up emojis in the comment section. Singer Lisa Mishra added, "They are indeed fashtable."
Karan keeps sharing hilarious videos of his kids on Instagram from their daily lives. In some of them, Yash and Roohi are seen questioning Karan Johar's fashion sense as well. Karan is known for his experimental sartorial choices. He embraced fatherhood in February 2017.
Previously, Karan shared a video that featured his children and him spending some time together at home in their living room. As seen in the video, Karan asked Roohi, "Roohi, how are you?'" A smiling Roohi replied, "I'm exhausted." Karan told her, "You're exhausted? Oh God that must be very tough. You're tired. Poor you."
The filmmaker then panned his camera towards Yash, who lay on a couch wearing black sunglasses. "And what about you?" asked Karan and he replied laughing, "Badshah (King)." An amazed Karan asked, "What? You're Badshah?" Yash responded with a yes. Karan said in the post, "We have a rapper in the house!!!" and even tagged rapper Badshah.
Karan Johar is currently gearing up for the release of his next film, Rani Aur Rocky Ki Prem Kahani. Releasing next year, it has Ranveer Singh, Alia Bhatt alongside Shabana Azmi, Dharmendra and Jaya Bachchan.